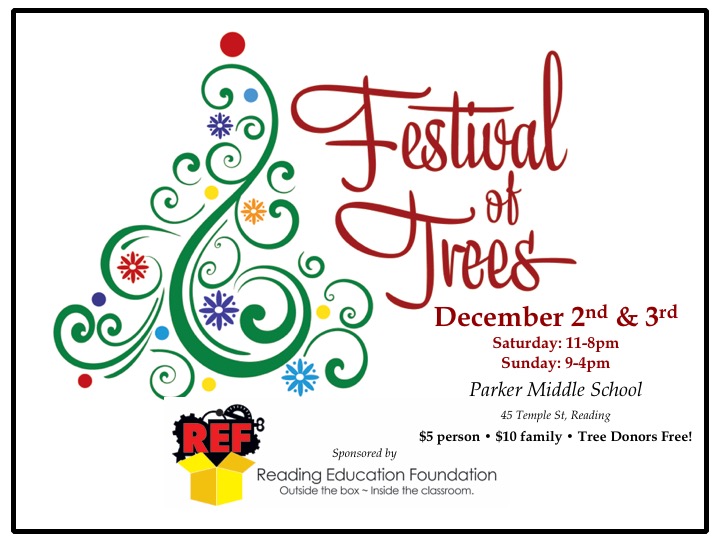 This weekend – Crystal Anniversary for Festival of Trees http://thereadingpost.com/2016/12/01/crystal-anniversary-festival-trees/Reading Education Foundation

Posted by The Reading Post on Thursday, December 1, 2016
Our annual holiday fundraiser is a great family event! Visitors will be delighted and inspired by a winter wonderland of decorated holiday trees that are raffled off to lucky winners! Saturday evening activities consist of a special reading of Polar Express and a pajama party for kids among a forest of fun.
Decorated trees are donated by local families, businesses, organizations and schools. With a wide variety of sizes, shapes and themes to choose from, there is something for everyone.
New this year! — Pre-order your admission and raffle tickets! We will have your festival book and raffle tickets already labeled with our number waiting for you when you arrive! Just head over to the advance sales table.
Would you like to donate a tree? Donors have decorated a tree as a family project, in memory of a loved one, to promote a cause or to advertise their business. Decorated trees must be artificial and tree size can range from table top to 11 feet high. 
Night with the Trees
A special nighttime family event on Saturday from 5-8pm. Come purchase dinner and dessert, and enjoy a sing-a-long followed by a holiday story reading of Polar Express. Children are invited to wear their PJs!
There is lots to do to make this a fundraising success, and we love our super volunteers! Volunteering to help with our events is a great way to get to support innovation in our schools and get to know REF.
Visit our blog to see examples of trees from past years.