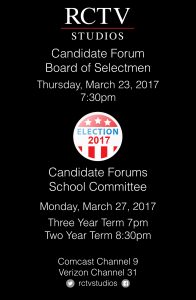 RCTV will be hosting a series of candidate forums over the next two weeks leading up to the April 4 local election. On Thursday, March 23 at 7:30 PM the three candidates for the two available seats on the Board of Selectmen will get together in studio. Incumbents Kevin Sexton of Emerson Street and John Halsey of Beaver Road are seeking re-election to the board and Andrew Friedmann of Hillcrest Street is running for a first term. The RCTV forum will be moderated by Alan Foulds and will feature questions posed by Catherine Robertson and Ryan Pinette. The forum will be live on RCTV.
The School Committee has two contested races this year. Two 3-year seats are available and both incumbents, Jeanne Borawski of Deer Path Lane and Dr. Linda Snow-Dockser of Beaver Road, hope to retain their seats. Challenging them is Erin Calvo-Bacci of Main Street. RCTV will host a forum for these candidates on Monday, March 27 at 7:00 PM.
Additionally, there is a two-year School Committee seat available. A former member resigned mid-term, and Nicholas Boivin of Estate Lane was chosen to fill the vacant seat until this election. Mr. Boivin is seeking to retain his seat, and is challenged by Carl Anderson IV of Whittier Lane. The forum for this election on RCTV will be March 27 at 8:30 PM. Both School Committee forums will also be moderated by Foulds and will also feature questions posed by Robertson.
This will be the 20th year that RCTV executive director Philip Rushworth has produced election programming for Reading's local channel. "It is an important part of RCTV's mission to help Reading voters know about the candidates and the issues." Rushworth commented. "Each year we strive to improve our political coverage as technology advances" RCTV is Reading's public access television studio located on Main Street in Reading. It's shows and coverage can be seen on Comcast channels 9, 22, and 99 and on Verizon channels 31, 32, and 33. For more information about RCTV you can visit its website at www.RCTV.org.