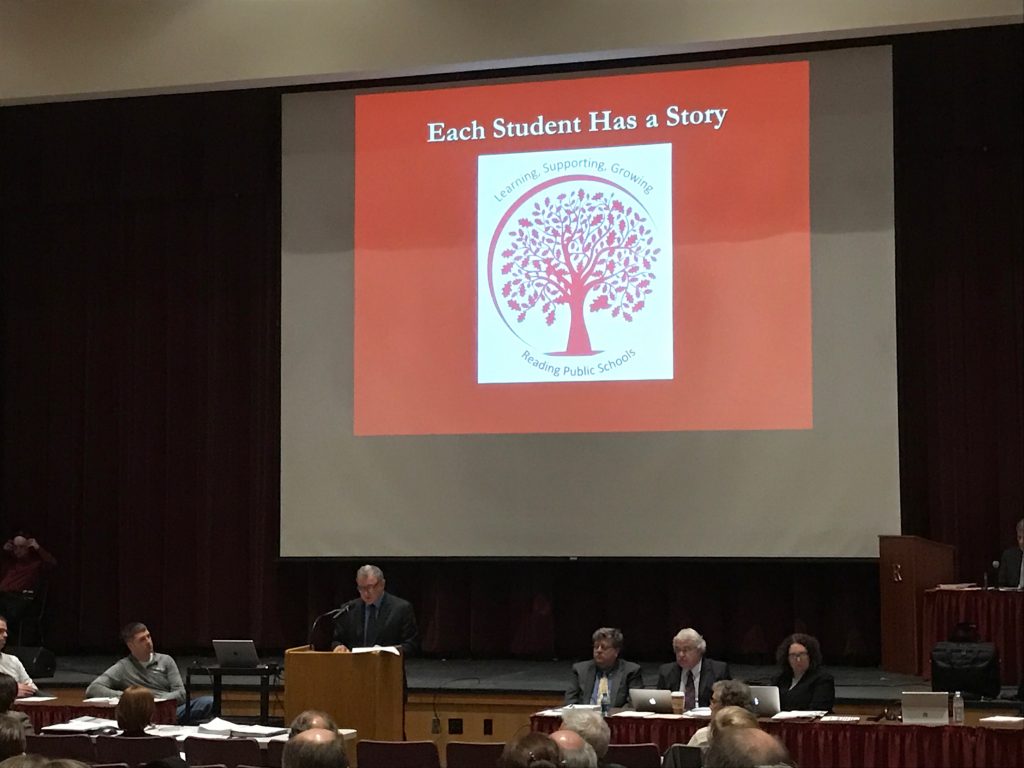 The Subsequent Town Meeting (regularly scheduled fall meeting) reconvened on Thursday to continue its work on the 31-article warrant.  The first order of business was a reconsideration of a motion made under article 16 on Monday. Originally it called for the clearing of the title on a piece of property on Oakland Road, across from the high school, then would authorize its sale by the Board of Selectmen. The first time around it failed to achieve the two-thirds vote necessary for passage. Town Meeting Member Glen Hartzler, who had voted on the prevailing side during the original deliberation, called for reconsideration.  The plan, if reconsideration had been adopted, was to amend the motion, calling only for the clearing of the title. Again, the motion failed to attain a two-thirds vote, with 75 in the affirmative and 40 in the negative.
School Superintendent, Dr. John Doherty gave the State of the Schools address, honoring several students and teachers for excellence during the past school year.
Town meeting then returned to three articles passed over on Monday. Action on article 13 was postponed and will return in April.  An article on drainage easements, another on stormwater management, and a third on discharges to the storm drain system were adopted.
By 9:30 town meeting returned to where it left off, completing business under articles 24, 25, and 26, the first three of eight zoning bylaw changes.
Town Meeting resumes on Monday, Nov. 21, beginning with the second of two special meetings.  This deals with liquor licenses.  When completed, the meeting will turn to the first special meeting, postponed from last week.  The subject of that warrant is pending litigation. When that meeting is adjourned, town meeting will continue to work on the main warrant, starting with article 27.  The last five warrant articles are proposed zoning bylaw changes.
Upcoming Schedule:
Monday, Nov 21
Special Town Meeting No. 2
Special Meeting No. 1
Subsequent Town Meeting
Articles 27-31
Monday, Nov. 28 (if necessary)
Subsequent Town Meeting