New Content Includes Infographics, FAQ's & Cost Projections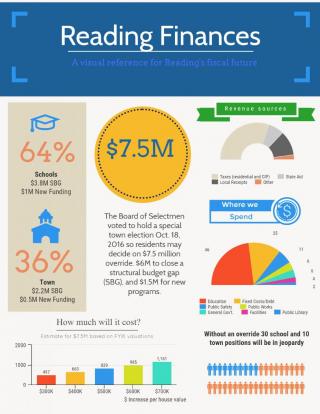 In an effort to give residents as much information as possible about the Proposition 2 ½ Override Election scheduled for October 18th, the town updated its website. Town officials collected information and feedback throughout the series of public meetings held during the late spring and summer and developed a series of documents to help answer questions about a potential override. While the presentations from the public meetings posted to the website offer a high level of detail and granularity, the new documents focus on general knowledge, answering common questions, and offering estimates on tax increases for property owners should a $7.5M override pass.
The new information includes a searchable street index showing potential override calculations based on address and 2016 assessed property values, an infographic on the override, an infographic on senior tax relief, and Frequently Asked Questions (FAQs). Residents can visit the town's website at http://www.readingma.gov/ and click on the 'Override Information' button on the homepage to view the infographics, download the 'Override Impact' document, or read FAQs. More information may be added prior to the election, so residents are advised to check the site often.  
Information will also be posted regularly to town social media accounts. Residents are encouraged to follow the town on Facebook and Twitter. http://www.readingma.gov/home/pages/social-media