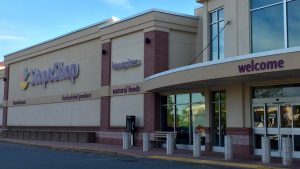 At their September 6 meeting, the Board of Selectmen voted 4-0 to approve the transfer of the liquor license from Brooks Brew and Fine Wines, known in Reading as The Wine Shop, formerly of 676 Main Street, to Reading Fine Wine and Spirits, soon to be located in the Stop & Shop at 25 Walker's Brook Drive. Board Chair John Halsey was absent from the meeting. The applicant, Anastasiois Giannopoulos, owns and manages several alcoholic sales establishments in Massachusetts and presented evidence of a spotless record at his other locations to the Board. Plans were unveiled to lease and transform an unused "cafe" portion of the Stop & Shop to house the new establishment, which will be a separate entity from the grocery store.
Giannopoulos also commented to the Board about his policies regarding protecting against under-aged sales including the checking of ID's and the use of mystery shoppers to confirm that policies are being followed.  Vice-chair Kevin Sexton welcomed the new establishment to Reading, but also cautioned Giannopuolos that Reading uses its own mystery shoppers and "comes down harshly" on stores caught selling alcohol to minors.
The Board also granted a temporary waiver of the Selectmen's policies to the new Chipotle on Walker's Brook Drive, allowing the restaurant to serve alcohol in plastic cups.  The waiver is effective until December 31 at which time the Selectmen anticipate that they will have had a full review of the policy.
There was concern expressed regarding the lack of communication from North Reading to the Reading Historical Commission and Conservation Commission about repair work done to the Mill Street Bridge.  Members of both committees addressed the Selectmen on this issue.  The Town Manager Robert LeLachuer and Selectmen Dan Ensminger will compose a letter to the North Reading Board of Selectmen asking for greater notification on these matters.
The remainder of the meeting consisted of the Board abandoning drainage easements at 21 Hunt Street and 26 Lee Street, closing the official warrant for the October 18 Special Election, and approval of a permit for amplified sound for the Saturday evening Flag Football program at the high school football stadium.
The Board also looked ahead at the progress being made towards their Reading 2020 initiative, as well as a preview of the warrant for the November Town meeting; a warrant that currently stands at 29 Articles for Town Meeting consideration.
The meeting adjourned at 10:00pm.