Reading, MA — On Tuesday, November 28, at 7 p.m., in the Community Room, prepare to engage in a meaningful dialogue as we come together to foster understanding, share stories, and explore ways to make our community more inclusive. We'll reflect on positive connections, address challenges, and actively listen to the experiences of our neighbors. The experience will foster a deeper understanding of our shared history, and pave the way for shaping a collective vision for our future.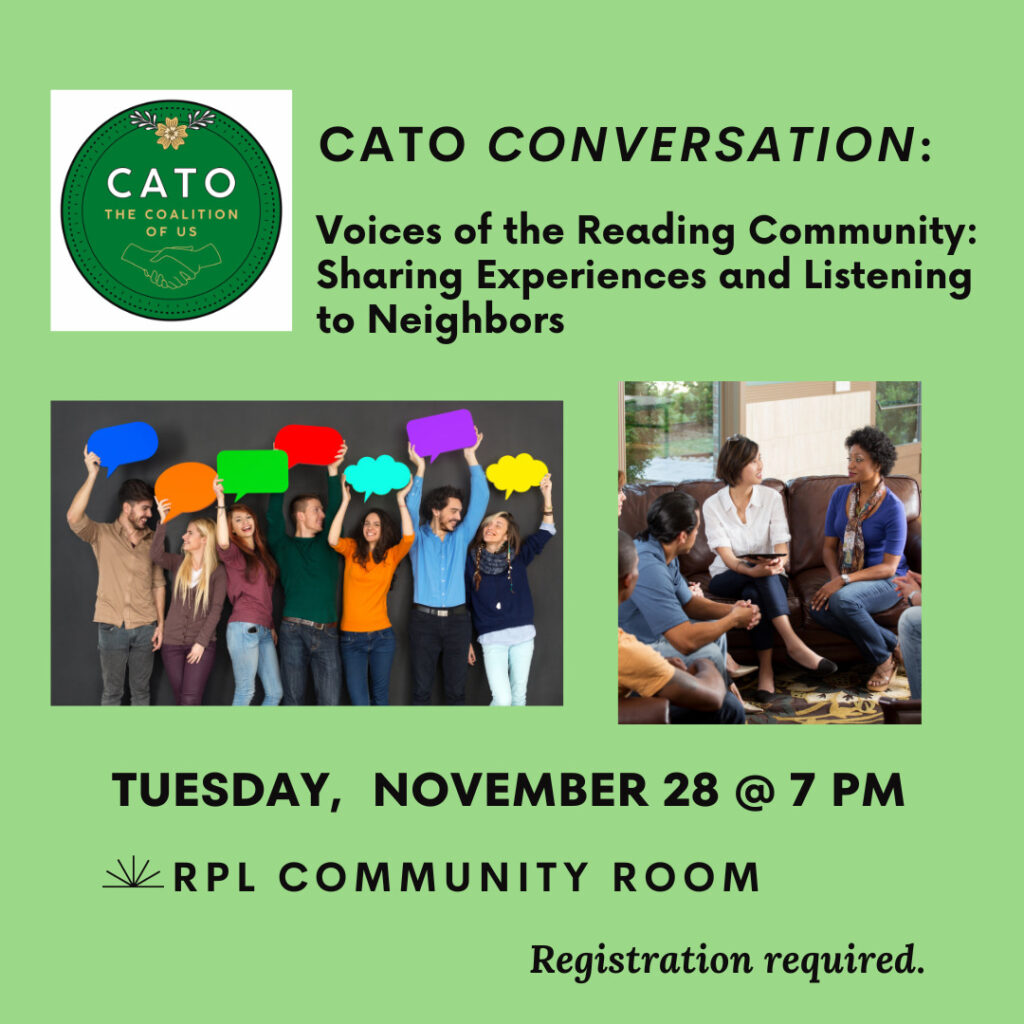 Together, CATO and the RPL aim to build a stronger and more empathetic Reading community through face-to-face communication to help deepen our understanding of each other. Don't miss this opportunity to be a part of a transformative conversation.
Registration is required. Space is limited. Registrants should arrive 10 minutes before the event to sign in.
For more information and to register visit: https://libcal.readingpl.org/event/11282944
CATO-Conversation-Fall-2023

❦
The Reading Public Library is committed to evolving together to strengthen communication, equity, collaboration, and learning in our community. Our mission is to be a center and resource for learning and civic engagement. We provide a place and platform of, by, and for the people who can benefit as individuals as well as contribute to the well-being of the community. We work to achieve these goals and commitments by focusing on education, equity, accountability, and access.
The Coalition of Us (CATO) is dedicated to creating social awareness, opportunities, and support for people of color by nurturing collaboration with multiple organizations and engaging diverse people in planning and participating in events, programs, and educational curriculum. Based on the demographics and the history of Reading, Massachusetts and how it
connects to a more deeply rooted problem in relation to the rest of the United States, CATO's mission is to not only expand the representation and voices of color in policy reform, education, and networking but to raise every other marginalized voice along the way.