April 28, 1934 – September 4, 2023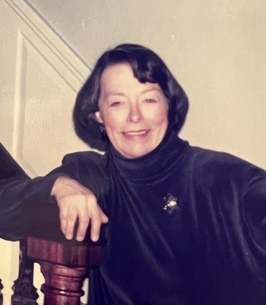 Shirley Ann Reynolds, 89, of Nashua, NH, passed away, Monday, September 4, 2023, at the Community Hospice House in Merrimack, NH. She was born to parents David and Elsie (Dahlquist) Gustafson. She was married to the late Lt. Col. Robert A Reynolds until his passing in September of 1995.
Shirley graduated from Central High School in Manchester, NH. She went on to be an office/operations assistant at Granite Fund Raising. Her caring nature made her a volunteer at heart. Shirley volunteered her time to various organizations including Nashua World Cup Soccer and Pilgrim Congregational Church.
Besides Shirley's husband, she is predeceased by 5 sisters, 2 brothers and a stepson Gene Reynolds.
She is survived by her sister Betty Riley and her husband Charles of Bedford, NH; children, Donna Boerner and her husband Ed of Merrimack, NH, Robert Reynolds Jr. of Rochester, NH, and David Reynolds of Reading, MA; stepchildren, Gregory Reynolds and his wife Brenda of Midland, TX, Pamela Collachi and her husband Ritchie of Navarre, FL, Audrey Reynolds and her husband Bill Sirois of Falmouth, MA; as well as several grandchildren, nieces and nephews.
SERVICES: A Funeral service will be held Friday, September 15, 2023, at 11 am at Pilgrim Congregational Church, 4 Watson St, Nashua, NH 03064. A procession will lead to the internment at Edgewood Cemetery, 107 Amherst St, Nashua, NH 03064. Family and friends are invited to attend. Those unable to attend in person may view the service via zoom. (Zoom link – Meeting ID: 827 4492 7166 Passcode: 346141 ) Those who wish to make a memorial contribution in Shirley's loving name, may do so to Nashua Soup Kitchen, 2 Quincy St, Nashua, NH 03060 or visit them online at https://nsks.org/give-online/, Southern NH Rescue Mission, 40 Chestnut St, Nashua, NH 03060, or visit them online at https://www.hope4nashua.org/donate or please donate to your local food pantry. The DAVIS FUNERAL HOME, 1 Lock St, Nashua, NH 03064 has been placed in charge of arrangements. An online guestbook is available at www.davisfuneralhomenh.com. (603)883-3401 "ONE MEMORY LIGHTS ANOTHER."