Opening
Good evening and welcome to the Reading Memorial High School Class of 2023 commencement exercises. My name is Kevin Tracey and I am the proud principal of Reading Memorial High School. I know many have asked and we tried to respond- hold graduation on a Friday night in the stadium AND make sure the weather is beautiful! Went 0-2 on that one, but we have a wonderful ceremony planned and I have cut my speech down to just under an hour given the heat.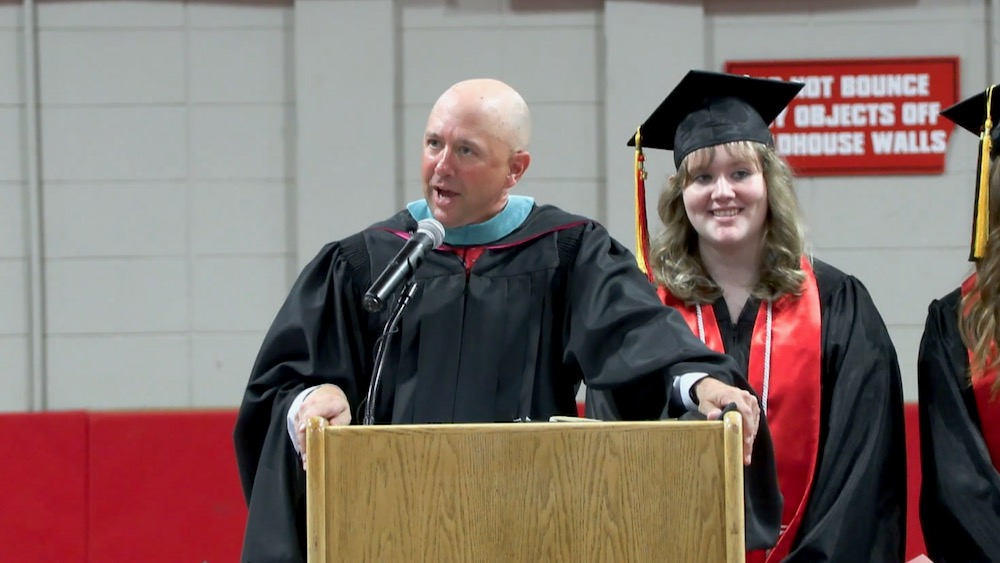 As we do each morning, we will begin the ceremony with the Pledge of Allegiance recited by Ms. Emelia Burns, President of our Student Council followed by the singing of our National Anthem by Laurie Wise and Liam Synnott.
Intro to Richard Carlson
We are going to go a little out of order this year to celebrate a graduate of RMHS, who was never given the honor to walk. Born in 1932, Richard Carlson was scheduled to graduate RMHS in 1951. He grew up on South Street here in Reading and was a hockey player. Richard served in the US Air Force and went to basic training at Sampson AFB in NY and then spent two years in Okinawa. He is now retired and after living in Wilmington to raise his family, now consisting of 5 daughters, 10 grandkids and 5 great-grandkids, he resides in Moultonborough, NH. Please welcome to the stage, Mr. Richard M. Carlson to receive his long deserved high school diploma.
Principal's Address 2023
Ladies and gentlemen, esteemed faculty members, proud parents and family members, and most importantly, the graduating class of 2023, it is an absolute honor to stand before you today as the principal of Reading Memorial High School and address this momentous occasion. This day marks a significant milestone in your lives, as you bid adieu to the familiar hallways, classrooms, and cherished memories that have shaped your high school journey. Today, we come together to celebrate incredible achievements, growth and potential of each and every graduate seated before us.
Since we have all been through this process together, I would like to begin by complimenting the parents and caregivers, families, friends, members of the Reading community, our School Committee, Superintendent Milaschewski and his central office team for all of their incredible support. In addition, I would like to acknowledge and commend the wonderful contributions made by our RISE preschool, our elementary and middle school staff in establishing a strong foundation and to my immediate colleagues at RMHS for working tirelessly to build on this base to prepare these students for the challenges that lie ahead. In particular, I would like to publicly thank our retiring RMHS staff members, Mr. Bob Mooney, Ms. Shelley Lynch and Mr. Moe Hillis and ask that they please stand to be recognized.
To the graduates of 2023: We could not be more proud of you. In our eyes, you represent an incredibly diverse and special group of young people. Through trials and tribulations, disrupted learning and experiences, your character, your values and your talent shown clearly in positive contrast to the negative context of our surrounding world. You entered your senior year having lost much, but gaining momentum. The fall kicked off with BMX bikes flying overhead, homecoming and pep rally to fire up and launch Rocket pride. This pride led to widespread positive change from the inception of our unified basketball team to a return of our cultural exchanges with Switzerland and our international trips, sending our RMHS students to London. It led to the rise of socially conscious, student-led organizations such as A World of Difference, SOCA4EJI, our Disabled Student Union, GSA and Girl Rising. Academically focused clubs flourished, such as Science Olympiad and Young Engineers, students publishing pieces in "The Orbit", beat masters in Chess and displayed our prowess as the Robokets rocked it at the NEFirst Competitions. Many of you engaged in meaningful internships from Mitre to Veterinarian hospitals to construction management and education.
The label "talented" is often used in cliched fashion when describing students, but when applied to the RMHS class of 2023 this title is earned and warranted. Success in athletics came in many forms from an upset over Lexington in girl's hoops to a hard-fought semi-final hockey game against Xaverian that nobody should have lost. Individually, Boemer dominated as a double winner at States, Sophia Isbell broke three school records in gymnastics, Jack "The Mighty" Quinn broke the school record time in the 1000 and the mile and now the 800, Sedona Skenderian earned three school records and the girls 4×2 relay shattered the record books. In total seven students were recognized as all scholastics in the Globe and Herald. And, the Reading lacrosse machine rolls on. Games are home on Monday.
In the PAC and on the field, our performing and visual arts excelled. Our marching band was showered with deserving accolades as they marched to a second straight Massachusetts State championship, our jazz band received a gold medal at districts and went to states for the 17th consecutive year and our Winter Guard finished second in the state. Scrooge lifted all of our spirits around the holidays, while The Giver reminded us all that our individuality should never be sacrificed for conformity. In painting, drawing and photography, our seniors earned five gold keys, 4 silver keys and 3 honorable mentions. At the 6th congressional district art show at Montserrat College of Art in Beverly, Sara LeClaire, won Best of School for her painting entitled "Crab Rave". And all was on display at our three-day ArtsFest.
We made it to senior week. Enjoyed the prom at Andover CC despite a monsoon, hosted a senior bbq and of course, a toilet papering party before we ended here at your graduation.
Class of 2023, as we celebrate your achievements and bid you farewell, let us not forget the invaluable support and guidance of the exceptional teachers, mentors and parents, who have stood by your side every step of the way. Cherish the friendships you have forged, the relationships you have built and the knowledge and skills you have acquired, for they are the foundation upon which your futures will rest. As you take your final steps across the stage, remember that you are equipped with the tools and unwavering potential to make a difference in the world. Embrace the challenges that lie ahead, stay true to yourselves and never forget the spirit of unity and determination that has made this graduating class truly exceptional.
In the words of your RMHS teachers, counselors and staff who know you best:
Ms. Cunha describes you as leaders, even when leadership wasn't always visible from a zoom window. These students have been grateful for what they have more than ever seemed to complain over what they went without. They are no strangers to sacrifice and yet their overall demeanor and energy has been some of the brightest in our building- they are truly undimable lights. Ms. Lynch agrees, stating that despite the many challenges faced, this class continued to charge forward putting forth their best efforts in the classroom.
Coach Hop credits the class with being instrumental in building the school spirit back when we needed it the most. The best part of them is that they are just great humans! Respectful and funny, they always stop to say hi. Even if they are being silly and when they are stressed, she loves that you can still be kids and enjoy the moment. We hope you know the legacy you have left behind- you will be remembered as the class with class. Ms. Clawson concludes that with their loyalty and caring for others, the class of 2023 has maintained friendships that are truly one of a kind.
I agree with all of their thoughts and have no doubt that these shared characteristics will lead to your success in the future whether you leave us to take a gap year, join the workforce, enlist in the military or attend college.
Congratulations, Class of 2023! May your dreams soar, your ambitions flourish, and your future be filled with joy, success, and endless possibilities. Thank you for allowing me to be a part of your remarkable journey.
Closing Remarks
On part of the faculty, and wherever your path may lead, we ask that you always act with integrity; confidence and pride for you alone represent the potential greatness of the class of 2023 and the very best of the Reading School community. As we have not come to this place without assistance, please take the time to thank staff members, family and friends who have supported you along the way. Modeling, I will start us off by thanking Ms. Scouten, Mr. Strout, Mr. Mulligan and our outstanding facilities department for all of their work pulling together this ceremony to honor you. Without them, this would not have happened. Please give them a very well deserved round of applause.
Remember Rockets, you always have a home here.
Congratulations to you all and we wish you all a safe and relaxingsummer!
TASSELS RIGHT TO LEFT.
I now present to you the RMHS graduated class of 2023!