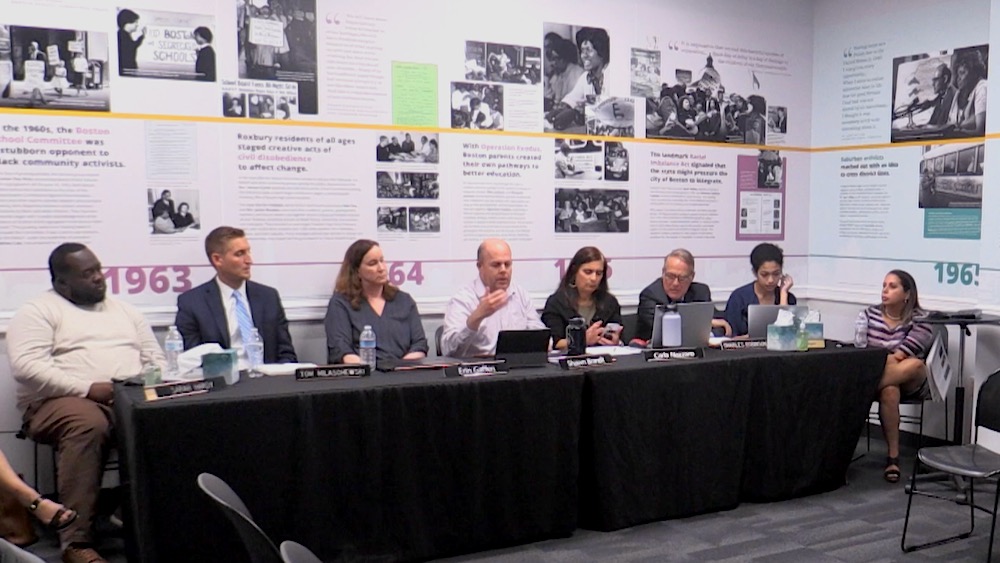 Boston — The School Committee focused its attention on the METCO program this past Thursday by hosting its regular meeting at the METCO headquarters in Boston. METCO President and CEO Milly Arbaje-Thomas welcomed the committee and shared a presentation on the history and current endeavors of the organization.
According to Arbaje-Thomas, METCO began in the 1960s as a parent-led initiative in response to racial inequalities in Boston Public Schools. Thirty-three communities, including Reading, participate in the program, which helps send Boston resident students to schools in suburban locations. Over 3,000 students are in the program, which has a goal of addressing racial segregation as well as racial isolation. Arbaje-Thomas explained that students who are both Boston-resident students and local suburban students benefit from interacting with one another, forming friendship bonds that can last a lifetime. Friends of Reading METCO member Shirella Lestrade further explained, "The only way that racism is going to change is by knowing one another."
"METCO is part of the solution [to racial issues], it is not the solution, but it is a solution," Arjae-Thomas stated.
METCO is funded with $29,000,000 in state funds spread amongst the participating communities. Arbaje-Thomas quickly pointed out that the 103 METCO students in Reading Public Schools qualify the district for over $800,000 in METCO grants and an additional $300,000 in state Chapter 70 funding. Reading METCO Director Kurtis Martin shared how some of this funding has been used to establish the district's six dual-role adjustment counselor/METCO coordinators. One works in each of the five elementary schools, and one services both middle schools. These persons help students in the entire school deal with social and emotional issues as well as working with problems and concerns unique to Boston-resident students. A seventh adjustment counselor/METCO coordinator will be added for Reading Memorial High School next year.
Questions regarding the program led to a discussion about math placement in the upper grades, with some parents noting that students of color have been discouraged from seeking more challenging course pathways. Though a top student, the student representative to the School Committee, Jayda Hayes, a student of color, noted that she was discouraged from pursuing the most challenging math track in middle school. After some discussion, Superintendent of Schools Thomas Milaschewski agreed that more work needs to be done.
"We need to do more to be sure we open doors for our students so that our top-level classes . . . reflect the diversity of our district, and right now they don't," Milachewski responded.
Milaschewski, in his report, announced that Kerrie Wilcox had been hired as the new RISE director. He also reported that after the first round of interviews for the Director of Finance and Operations position, none of the candidates were recommended to continue in the process. As a result, the position has been reposted. Milaschewski shared that the district will consider candidates for a one-year interim role and a long-term placement.
The School Committee voted 4-0 to accept the Fiscal Year 2024 operating and capital budget as approved by Town Meeting. School Committee chair Shawn Brant also outlined the process for the superintendent's annual summative evaluation, with a vote on the consensus evaluation planned for June 22.
The School Committee adjourned at 9:30 pm.