November 29, 1927 – March 13, 2023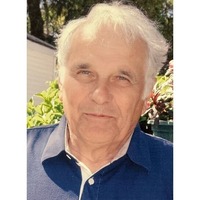 Max E. Voegelin of West Barnstable, MA, previously of Reading, MA and Zurich, Switzerland, passed away peacefully on March 13 with family at his side. Max was 95 years old and faced his final stage of life with the logic and stoicism for which he was known, saying, "I've had a great life, I'm ready." He quickly added in his subtle wit, "No one should live this long."
Max came to America in 1952. He said farewell to his parents Ernst and Marie and his sister Vreni, then boarded the Queen Elizabeth with a few hundred dollars, a phone number in New Jersey in case he needed a hot meal and a chest with his belongings to start a new life in the Land of Opportunity. At that number in Jersey was a beautiful young woman named Ruth (Bolliger) Voegelin who became his wife of 69 years and misses him greatly. Max took great joy in his family and felt it was his greatest accomplishment. He leaves behind four sons and their families: Peter and his wife Laura (Mulvey) of Billerica and their sons Daniel and Michael; Christopher and his wife Debb (Berry) of Reading and their daughter Hannah; Stephen of Reading and his sons Matthew and Justin; Paul and his wife Oriente (DiGenova) of Woburn and their daughters Sabrina and Tiana.
Max was an Electrical Engineer who loved his work, spending most of his career at Textron Industries being highly esteemed by those he worked with. He loved to sail, sailing his boat out of Marblehead almost every weekend in the summer. He was an avid Ham radio operator holding a master license in Amateur Radio, call sign KA1N. Max loved the ocean and his winter home in Florida, where he and Ruth frequently enjoyed watching the west coast sunset together on the beach. Max loved to travel, enjoying trips to his beloved Switzerland and staying frequently in beautiful Wengen in the Alps. His two favorite trips were to Alaska and Australia, of which he spoke often.
Max was a great man, husband, and father who will be deeply missed by his family and all who knew him.
A funeral service will be held at the Douglass, Edgerley and Bessom Funeral Home 25 Sanborn St., Reading on Saturday, March 18 at 12pm. Burial will follow at Charles Lawn Cemetery in Reading. Visiting hours will be held prior to the service from 10am-12p