Reading, MA — You are invited to join a transformative, community workshop provided by MERGE Inclusion Consulting! We'll explore how you, your organization, or group can become more inclusive to ensure community members with diverse abilities are welcomed, engaged, and successful in their participation.
This workshop is hosted by The Office of Equity And Social Justice and Reading SEPAC. Registration is requested at https://bit.ly/RPLInclusion
MERGE Diverse Abilities Inclusion Consulting understands and celebrates that people interact, learn and experience the world around them differently. We build stronger communities together, with you, providing expert guidance on inclusion of persons with diverse abilities. MERGE founder Lisa Drennan is an innovative leader with a demonstrated commitment to building inclusive communities. Lisa possesses a specialty with over 38 years' experience in supporting individuals with diverse abilities.
❦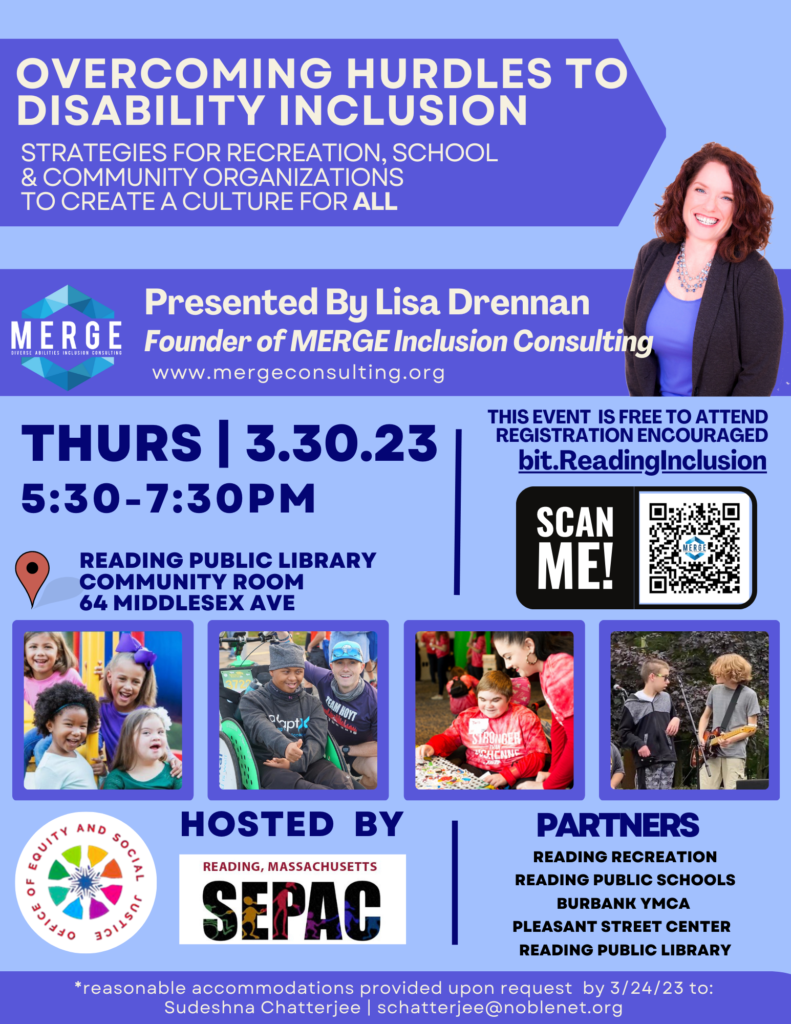 The Reading Public Library is committed to evolving together to strengthen communication, equity, collaboration, and learning in our community. Our mission is to be a center and resource for learning and civic engagement. We provide a place and platform of, by, and for the people who can benefit as individuals as well as contribute to the well-being of the community. We work to achieve these goals and commitments by focusing on education, equity, accountability, and access.