READING — Chief David J. Clark and the Reading Police Department announce the department's new K-9 has made its first successful "track."
Reading's K-9 Unit was first deployed on Monday, Feb. 13 when a nearby community responded to a report of a missing juvenile who was suicidal. K-9 Tango and K-9 Handler Officer Chris Briere, acting as the Northeast Metropolitan Law Enforcement Council's (NEMLEC) K-9 Unit, were called to the scene.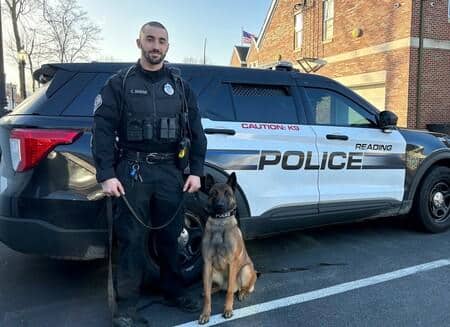 Tango tracked the individual through a thickly wooded area for about a mile and was able to safely locate them. First responders reached the juvenile and provided them with appropriate assistance and reunited them with their family.
Tango, Reading's first K-9, and Officer Briere attended tracking school at the Boston Police Academy. They have joined the NEMLEC K-9 unit. Tango will undergo narcotics detection training this summer.
The Reading Police Department was able to acquire Tango through funding from the Stanton Foundation, which issues grants to local police departments for the initial acquisition and training of K-9s.
"Adding a K-9 to our department allows us to bring a new dimension to our level of service to our community, as well as our ability to support our neighboring towns," Chief Clark said. "We are grateful for the funding provided by the Stanton Foundation that made Tango's arrival possible and look forward to he and Officer Briere's contributions going forward."