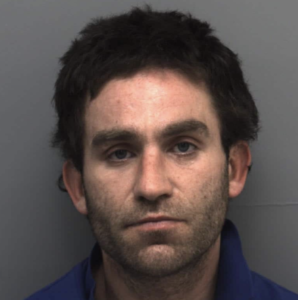 Reading, MA — Chief David J. Clark reports that Reading Police officers arrested a man following a traffic stop on Saturday.
ANTHONY M. PAVONE, 37, OF AGAWAM, is charged with:
Larceny of a Motor Vehicle
Resisting Arrest
Operation of a Motor Vehicle with a Suspended License
Speeding
Marked Lanes Violation
Operator of Motor Vehicle Refuse to Provide True Name
Fail to Signal
In addition to the above charges, PAVONE was sought on previous warrants issued by Boston, Chelsea and Lynn District Courts.
At about 7:12 p.m. on Saturday, Feb. 18, Reading Police observed a gray Honda CRV traveling southbound on Main Street at a high rate of speed. Officers attempted to stop the vehicle and followed the driver for more than two miles before it stopped on High Street. When officers asked the driver to identify himself, PAVONE provided a false name.
It was later determined that his license was suspended and PAVONE was to be placed under arrest. When exiting the vehicle, PAVONE reached into the vehicle for something. He was detained and escorted to the rear of the vehicle. While being handcuffed, PAVONE shoved officers and fled down High Street and onto the railroad tracks. He was then subdued by officers and placed under arrest.
Through the course of the investigation, police determined that the vehicle has been reported stolen out of Lawrence. The vehicle's owner was able to retrieve the car at Reading Police headquarters.
PAVONE was denied bail and transported to the Middlesex Jail & House of Correction in Billerica.
All suspects are innocent until proven guilty in a court of law.