Jan 27-Feb 11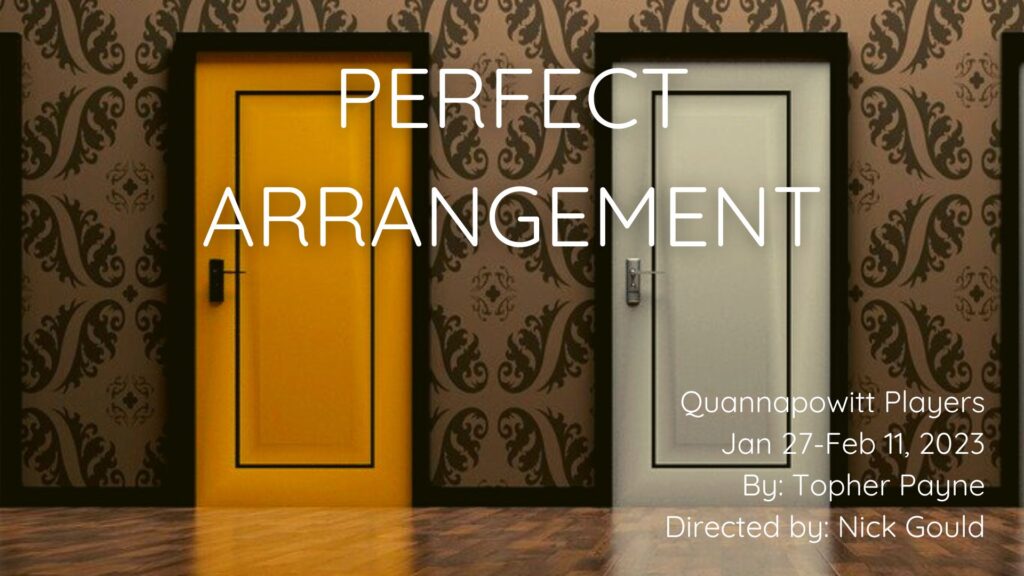 Reading, MA — It's 1950, and new colors are being added to the Red Scare. Inspired by the true story of the earliest stirrings of the American gay rights movement, Quannapowitt Players' next production "Perfect Arrangement" – written by Topher Payne and directed by Nick Gould – begins with madcap classic sitcom-style laughs, giving way to provocative drama as two "All-American" couples are forced to stare down the closet door. Set during the release of the Hoey Report of 1950, "Perfect Arrangement" follows two U.S. State Department employees, Bob and Norma, who have been tasked with identifying 'deviants' within their ranks. There's just one problem: Both Bob and Norma are gay, and have married each other's partners as a carefully constructed cover.
The Hoey Report codified what is now known as the "Lavender Scare" – the purging of LQBTQ+ employees from the ranks of the government. The paranoia of the McCarthy era shifted the post-war public narrative around this perceived threat, and resulted in thousands of government employees being forced to resign because of their sexuality. It would be decades before LGBTQ+ people reached any level of visibility and equality in American society, with hard-won rights threatened to this day.
Featuring a stellar cast that includes Iain Bason (last seen in QP's fall production "Night Watch"), DASH Award-winning Kimberly Blaise, Rebecca Greene, Naveen Gupta, Reading resident Sarah Logsdon, Eric Roberts, and Becky Ruccio, "Perfect Arrangement" will open on Friday January 27 and run through February 11.
The 2022-23 Season continues to be a special one for the Quannapowitt Players as the company in "little red schoolhouse" celebrates 85 years of community theater in Reading! From their first production in 1938 – "The Bishop Misbehaves" – to this season's line-up, QP has been a part of the Reading arts scene longer than most of its residents have been alive.
Single tickets are $25, $23 for Seniors/Students, and can be purchased online at www.qptheater.com/box-office/. Or for reservations call the QP Box Office at (781) 942-2212. Only checks and cash are accepted at performances.
Friday and Saturday performances are at 8PM. Sunday performances are at 2PM.
Though masks are no longer required while in the theater, they are strongly encouraged. QP's full COVID policies can be viewed here: https://www.qptheater.com/covid-19-policies/