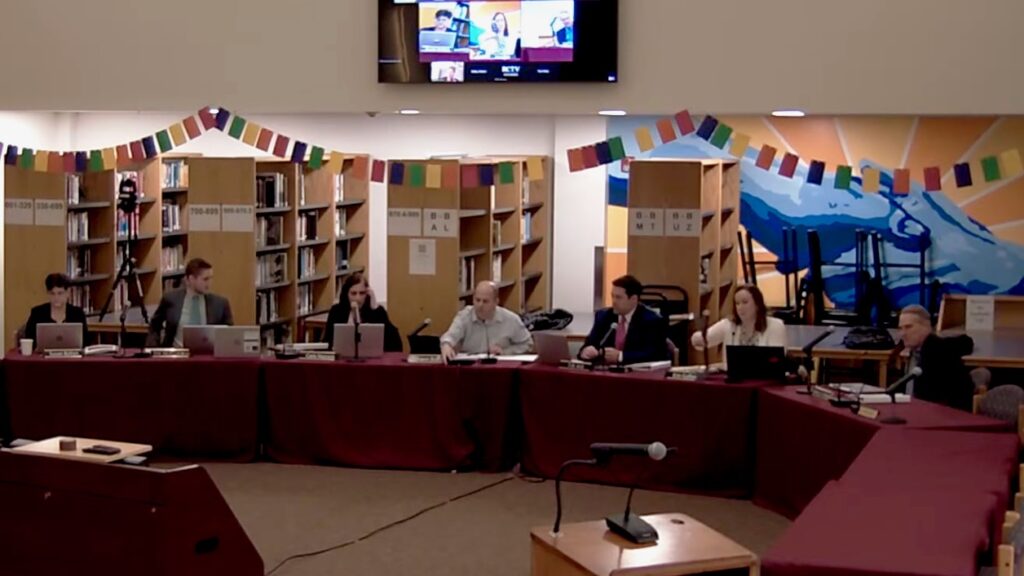 Reading, MA — Superintendent of Schools Thomas Milaschewski and Director of Finance Susan Bottan presented four cost centers of the Superintendent's Recommended Fiscal Year 2024 budget to the School Committee on Thursday. Bottan shared that the budget was built beginning with the School Committee guidance on issues such as progress towards full-day kindergarten, support of the Reading Memorial High School (RMHS) Pathways initiates, increased time on learning in the elementary schools, and class size. She also indicated that the budget was built upon making progress towards the school district's strategic objectives of supportive and safe environments, coherent instructional systems, and operational efficiencies.
Bottan reminded the committee that the Finance Committee had provided guidelines for a FY 2024 budget of $53,725,393. This is an increase of $1,942,000 over FY 2023. The town manager has also allocated $131,260 in anticipated savings to the schools along with $150,000 for the community priority of working towards full-day kindergarten. This leads to a total budget increase of $2,223,260 over FY 2023.
The Administration cost center reflects 2.5% of the total budget at $1,311,137. This is a .57% increase over FY 2023. Personnel costs with cost of living increases are $27,232, but there are savings through efficiencies of $19,835 in the non-personnel line items.
The budget for District Wide programs, such as extra curricular programs, athletics, and health services, is proposed at $2,380,272. This is a 7.1% increase over FY 2023. Included in the budget is the addition of an additional nurse position.
Bottan continued to explain that most of the cost increase in the budget comes from transportation costs. School Committee member Thomas Wise inquired as to whether or not changes to the ways that athletic teams are transported to games, as suggested by student input, had been considered in the building of the budget. Wise noted that multiple teams are transported at the same time and that students have indicated that there was a lot of "downtime" spent by students just sitting around while other teams play their games. Bottan acknowledged this stating, "The cost of having drivers waiting around is driving the cost of transportation." She also noted that transportation was "$50,000 over budget last year."
Wise also shared that student leaders have reported that some students did not register for higher-level classes, knowing how much time waiting around at sporting events would cost them. Students also indicated that some of their peers do not participate in athletics because they need to put the time into their coursework.
Bottan continued, stating that there had not been enough time to include the student feedback in this budget, but also indicated that the transportation contract will be completed in 2024, and that a new contract would need to be negotiated. School Committee member Chuck Robinson suggested that an analysis could be conducted to see if district ownership of a few buses of its own would make financial sense as the transportation companies seem to have a "virtual monopoly."
The Superintendent's Recommended budget for the Technology cost center is $668,433, an increase of 1.3%. The increase is due to cost of living increases for personnel. The Facilities cost center budget is proposed at $1,644,782 an increase of 1.48%. This increase is also created by cost of living increases as well as increases for contracted cleaning service at Coolidge Middle School and at RMHS. The proposed budget for capital expenditures is $338,000.
The School Committee will review the Regular Day and Special Education cost centers on January 9. There will be a public hearing regarding the budget on January 19 with a vote by the School Committee expected on January 26. The budget will be presented to the Finance Committee in March and will be voted on by Town Meeting in April.
The School Committee opened by recognizing RMHS teacher Heather Lombardo for her work in maintaining her National Board Certification. Milaschewski referred to the certification as "very prestigious" and "the gold-standard in teaching certification." Lombardo thanked the committee for the recognition and indicated that the work to attain the certification was, "a wonderful process for me."
The School Committee also voted 6-0 to make an end-of-quarter transfer of $40,736 from special education to regular day. It voted 6-0 to approve changes to three policies regarding student dress code, equal education opportunities, and school choice. The committee also voted 6-0 to adopt four new policies regarding federal funds supplements, expense reimbursements, the hiring of professional staff, and the harassment of students.
In regards to the hiring of staff, there was some discussion about what constitutes "approval" by the School Committee. The committee agreed that approval can be determined in several ways, including through budget transfers.
The School Committee adjourned at 8:15pm.