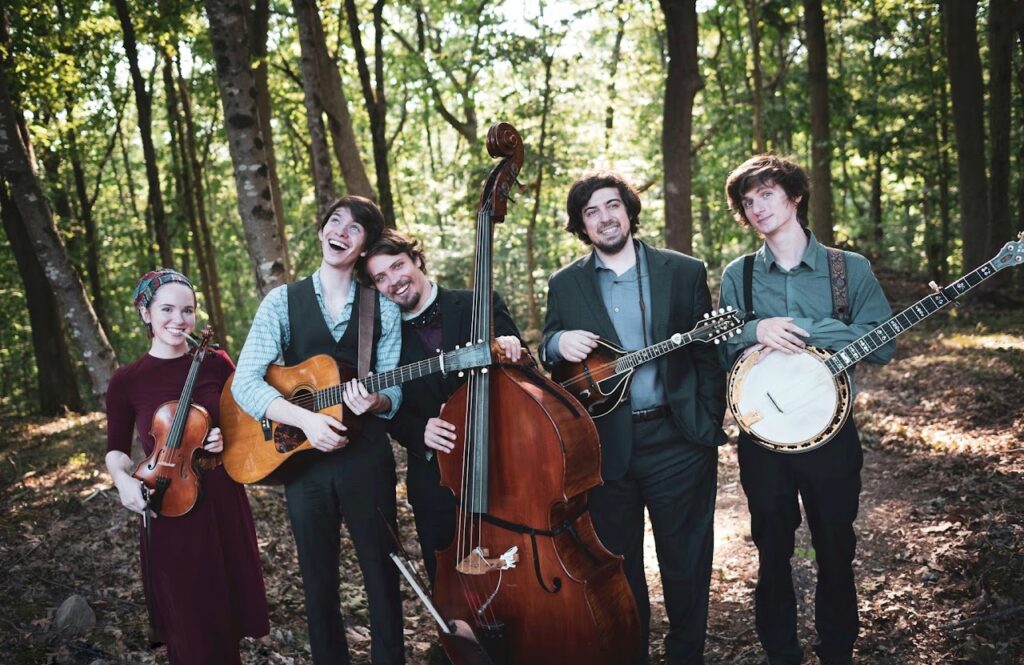 When: January 7, 2023 at 7:30 pm
What: The Ruta Beggars, bluegrass concert, LIVE!
Where: The Linden Tree Coffeehouse, UU Church social hall, 326 Main St. Wakefield, 01880
Admission: $20, those under 13 $10
Reservations recommended: call 781 246 2836
Information: LindenTreeCoffeehouse.org
The Linden Tree Coffeehouse is pleased to announce that on January 7, a night of Bluegrass is back, live in the social hall of the Unitarian Universalist Church of Wakefield. The Ruta Beggars will entertain all with their energy, instrumental expertise, powerful vocals, and remarkable creativity. The Ruta Beggars infuse traditional bluegrass and early swing to create a timeless act filled with intricate vocal harmonies, fiery instrumentals, and plenty of fun. They have been praised for their creative yet tasteful arrangements and charming performances, winning Thomas Point's band competition in 2019. The Ruta Beggars have been featured on the International Bluegrass Music Association's Showcase, Steve Martin's Unreal Bluegrass, Brian O'Donovan's A Celtic Sojourn, and the main stages of Joe Val, Grey Fox, Thomas Point, and Ossipee Bluegrass Festivals.
Brought together by their passion for bluegrass, The Ruta Beggars are Micah Nicol (guitar), Sofia Chiarandini (fiddle), Ariel Wyner (mandolin), Trevin Nelson (banjo), and Noah Harrington (bass), who met while studying at the prestigious Berklee College of Music in the American Roots Program. "Lettuce speak now of the Ruta Beggars. These up-and-comers have a fine, fresh sound rooted in swing, bluegrass, and beyond. They're not your garden variety, so to speak, band, because they take unexpected turns that put a smile on your face and a carrot in the patch. Whether burning on a Tex Logan fiddle tune or blending sweetly on a chordally expansive tune, these Beggars can't be beet."~ Tony Trischka IBMA Banjo Player of the Year
Tickets for those attending are $20, cash, or a check at the door. Please reserve your seats by calling 781-246-2836. Mask-wearing is optional to protect the band, volunteers & audience members.
The Linden Tree Coffeehouse operates, in part, with thanks to partial support from Wakefield's Arts Council of the Massachusetts Cultural Council. For more reservations and information: 781-246-2836, LindenTreeCoffeehouse.org