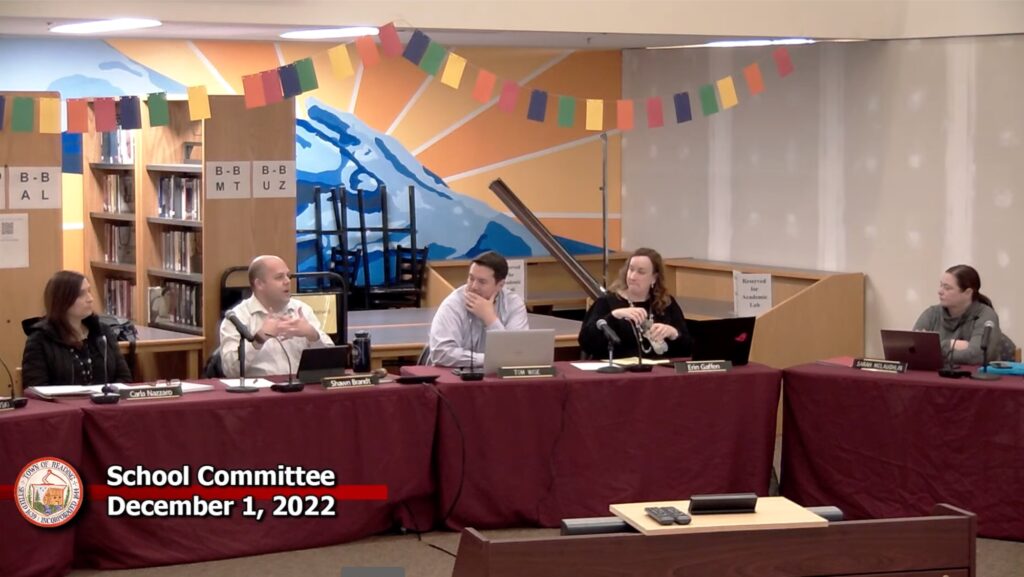 Reading, MA — By a vote of 5-0, the School Committee approved the School Improvement Plans for the elementary and middle schools on Thursday. As Superintendent of Schools Thomas Milaschewski explained, the individual plans show consistency across the district, have an instructional focus, align with the district improvement plan, but also allow for some school-specific areas for growth.
Principal Caitlyn Shelburne of Joshua Eaton Elementary School shared some commonalities across the elementary schools, including the development and measuring of a sense of belonging using the new school adjustment/METCO counselors, who Shelburne referred to as "pivotal new additions to our schools." She also shared about coherent instructional systems brought about through new curriculum initiatives in the district. The schools will utilize instructional leadership teams, similar assessment and data analysis, and learning walkthroughs that provide "teachers the spotlight to learn from others."
Each school will be helping teachers with specific learning coaches to adapt to the new curriculum, which is aligned across the district, though the work of these coaches is tailored to each teacher's needs. School Committee member Thomas Wise praised the systems as more granular and directed as to how to help each individual student. "It is exciting to see assessment leading to instruction and instruction leading to growth," Wise commented.
The schools are also approaching some aspects of improvement individually, with Barrows Elementary School seeking to embed social studies and science vocabulary into library sessions and art teachers incorporating basic principles of geometry. Joshua Eaton focuses on attaining a 97% attendance goal and is looking to build an incentive system to encourage positive behavior. Wood End Elementary School will look at school-wide projects on inclusivity and a sense of belonging.
School Committee member Erin Gaffen shared that she "appreciates that each school has its own personality" but also liked seeing the clear collaborative effort between the schools. Chair Shawn Brant added that he "loved the way [the plans] were developed."
District K-8 STEM Curriculum Coordinator Heather Leonard updated the committee on implementing the new math curriculum. She shared that the goal of the current phase of implementation is to engage teachers and support staff with training and to monitor the work in action in the classrooms continually. According to Leonard, the implementation phase is a one to four-year process. Leonard noted that the new teaching methods are more focused on problem-solving and less on mimicking the teacher, as has been done in the past. She shared a video of the reactions of some fourth-grade students when asked about their perceptions of math class. Highlighted were comments such as, "You can feel proud when you make mistakes and learn from them" and "sometimes [class time] is quiet, sometimes you hear from each other."
Teachers in kindergarten through grade two will be involved in professional learning throughout the year in preparation for implementation next year. Teachers participate in learning labs that blend lesson study and coaching to explore effective practices for the teaching and learning of mathematics. "The bonus is that you have teachers reaching out to each other," Leonard shared.
Brandt, while approving of the new methods, questioned how connections were being made with students who "thrived" under the former methods of teaching. Leonard responded that frequently students who memorize facts or processes well in early grades hit a wall in mathematics in middle or high school when more challenging problem-solving skills are needed; this new approach adds problem-solving earlier when students are younger, and "there is a better safety net."
The School Committee voted 5-0 to approve policies on educational opportunities for military children and educational opportunities for children in foster care. It also voted 5-0 to adjust the 2022-2023 school year calendar, changing graduation from Sunday to Friday, June 2, at 6:00pm. The committee voted 5-0 to revoke policy JHBA "skip days" on the advice of counsel. It also had the first readings for policy JH, student absences and illness; policy JE, student attendance; policy JFBAD, enrollment, rights, and services for homeless students; and policy EFDA, unpaid meal charges.
Milaschewski shared in his report that the estate of David Libby has established a $1.3 million endowment for scholarships aimed at underserved RMHS graduates. He also reported that all the phase one paperwork for the Killam Elementary School building project had been submitted to the Massachusetts School Building Authority.
The School Committee adjourned at 10:10pm.