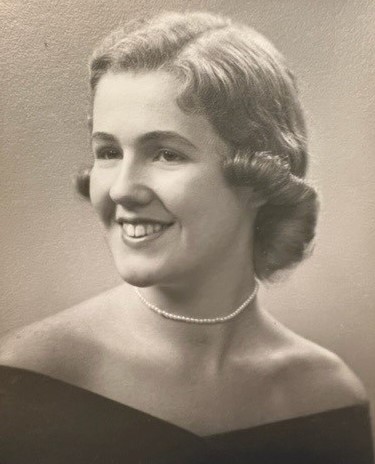 Sally M. (White) Butler died after a short illness on November 18, 2022. She was 83-years old. Sally was born in Waterville, ME to Mary (MacIsaac) and Ernest White, and was a long-time resident of Reading, Massachusetts. Sally spent the last years of her life in Naperville, IL.
Sally is survived by her daughters, Elizabeth (Tim) Bosworth of Naperville, IL, Linda (Carter Cloyd) Butler of Madison, IN, Kim (Rich) Graham of Tyngsboro, MA. She is also survived by her grandchildren, Alexandra Bosworth, Henry Bosworth, Will Bosworth, Owen Bosworth, Kristen (Ben) Shannon, Zack (Audrey) Novello, Alex Novello, Sean Graham, and Reese Graham. She is preceded in death by her beloved husband Bill Butler and her much-loved grandson Ryan Graham. Sally leaves behind sisters Daphney Fletcher, Mary Ann White, Joanne White and brothers Ernie White and Herbie White. Brother Paul White and sister Margaret Ellen Fahy await her in death. Sally had recently become a great grandmother with the birth of Rosie Novello, daughter to Zack & Audrey Novello.
While Sally considered her children her greatest accomplishment she was also immensely proud of her graduation from Colby College in Waterville, ME. She often remarked that this accomplishment was achieved against all odds given that women of her generation were not encouraged to pursue their education. It was through her strong will and determination that this was accomplished. Sally was a member of the Tri Delta sorority. As an English major she frequently quoted classic literature. Sally loved nature, often remarking on how it brought her such joy. She was an avid walker and spent hours hiking in the mountains of MA, NH, VT, and ME with her daughter Kim. Sally was a prolific writer – even continuing into her final weeks of life to document her daily events.
Sally spent her last three years at Auberge in Naperville, IL due to an Alzheimer's diagnosis. The family wishes to extend their thanks to the staff for the laughter, joy, and care provided. She had a wonderful time spent basking in the love received there. Sally's final care was provided by the staff of The Springs at Monarch Landing in Naperville, IL as well as the staff of Residential Hospice. The love, compassion, and generosity will never be forgotten.
Family and friends are kindly invited to gather and share memories with her family on Saturday, December 3rd, 2022 from 9 am to 10:30 am in the Doherty Barile Family Funeral Home, 11 Linden Street READING followed by a Funeral Mass Celebrating Sally's Eternal Life in St. Agnes, 186 Woburn Street Reading at 11 am. Interment will follow in Charles Lawn Cemetery 182 Charles Street Reading.  
In honoring Sally, in lieu of flowers, memorial donations may be made to: American Cancer Society at http://cancer.org.