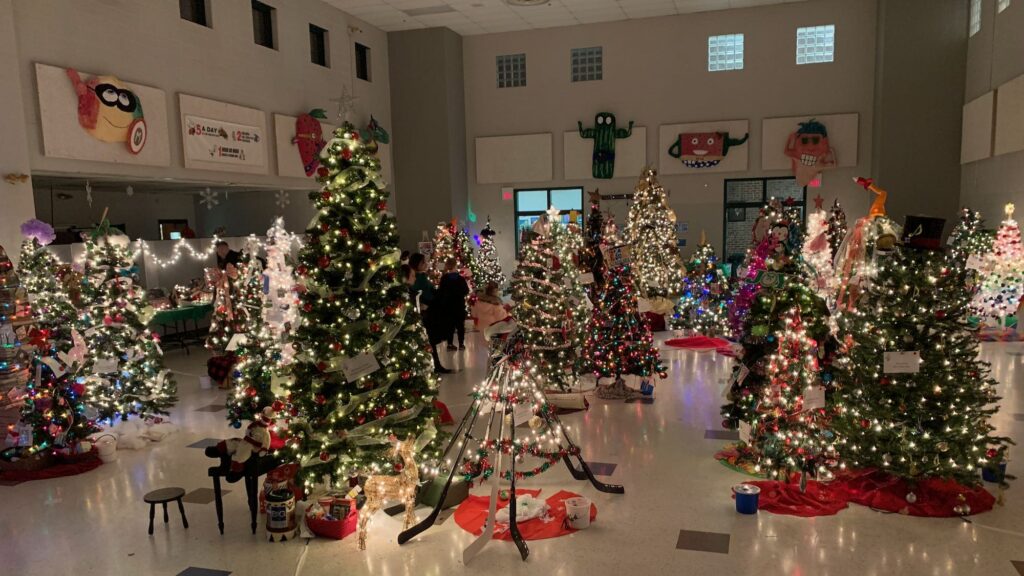 Reading, MA — Kick off your holiday season on Saturday and Sunday, December 3 and 4, by visiting Reading Education Foundation's (REF) 20th annual Festival of Trees, a winter wonderland of decorated holiday trees donated by local families, organizations, businesses, and schools that festival visitors can win for themselves! This signature REF fundraising event, held at Reading's Parker Middle School, is a magical and memorable community holiday tradition for adults and children of all ages. Fun can be had for all ages while raising money that REF provides to the Reading schools through teacher-initiated grants.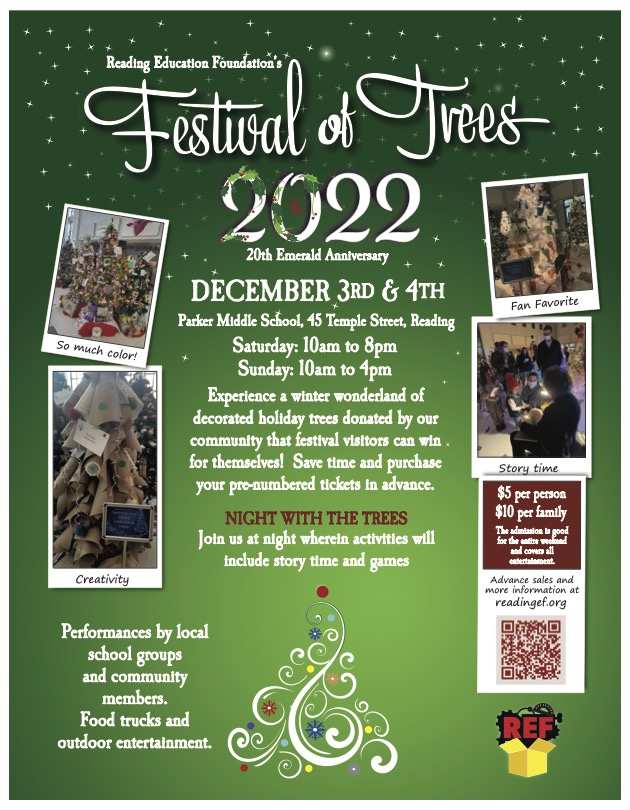 With close to 100 uniquely-decorated trees of all shapes, sizes, and themes, festival visitors can try their luck at winning the raffles for their favorite trees. In addition, children may partake in crafts offered by Creative Arts. There is local entertainment throughout both days, including live performances by school choruses, bands, and local groups. Food trucks will be outside selling items at the event. Lucky winners of tree raffles will be selected at closing on Sunday night. 
Saturday evening from 5 to 8pm, the Festival will host our popular "Night with the Trees." Children are welcome to come in their pajamas for a sing-a-long, games and reading of The Polar Express.
"We are excited to celebrate the 20th Anniversary of the Festival of Trees and hope both new and devoted followers attend this year's event. Without tree donors, there would not be a Festival, and we cannot thank them enough for their generosity and creativity," said Laura O'Neill and Andrea Nelson, Festival of Trees co-chairs.
Hours: Saturday, December 3, from 10am to 8pm, and Sunday, December 4 from 10am to 4pm.
Location: Parker Middle School, 45 Temple Street, Reading.
Tickets:  $5/person, $10/family. Admission and raffle tickets are available in advance through REF's website. Raffle tickets purchased in advance will be preprinted with purchaser's raffle number on the back, saving patrons the time and hassle of entering their personal information.  Online ticket sales will close on November 27 and after that are only available for purchase at the Festival. Admission to the Festival of Trees is valid for the entire weekend so entrants can return for any of the scheduled activities.
REF, non-profit foundation, is committed to supporting innovation and excellence in the Reading Public Schools.  REF's goal is to enhance and increase educational opportunities for all Reading students by providing funds for projects that go beyond the scope of traditional classroom learning.  To learn more about REF, advance sales, and see a schedule of events, visit the REF website at www.readingef.org.
REF is a 501(c)(3) nonprofit, volunteer-run, fundraising organization dedicated to supporting the whole child, and every child in Reading Massachusetts. Contact us at info@readingef.org to learn more.