December 26, 1961 – October 30, 2022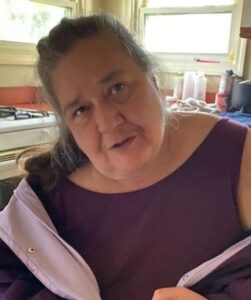 Lorri A. (Strait) Meyer, 60, of Tewksbury, MA, passed away on October 30, 2022, at the Care One nursing facility in Wilmington. She was born on December 26, 1961, in Omaha, Nebraska, to Lloyd Strait and Nancy (Calhoun) Kimball.
Lorri is one of six children. She has been through a lot in her life but was very loving with her beautiful animals. She had a great garden when her and her husband John were alive. She loved gardening. She loved playing scrabble thru the mail and in person, and she was an avid bingo player as well. Her family would like all condolences sent to 11 Adrein circle apt. 107 Rochester NH 03867.
Lorri is pre-deceased by her husband John Meyer and her father Lloyd Strait. She is survived by her mother Nancy Kimball, her brothers Kerry West, and Leman West. She is also survived by her sister Kandi West. She is also survived by her estranged sister Amanda Kimball and brother Howard Kimball. she is continued to be loved and remember by her close friends, Karen Ferelli, Ralph Earle, Jacky Gaudet and her husband John, Lois Bennett, and Ed Piercy.
A funeral service will be held at Martins Pond Union Baptist Church, 4 Cogswell Rd. North Reading, on Wednesday November 9th, 2022, at 11:00am. There will be a visitation hour before at the church for all friends and family. Burial at Spring Grove following the service.