Sunday, September 11, 2022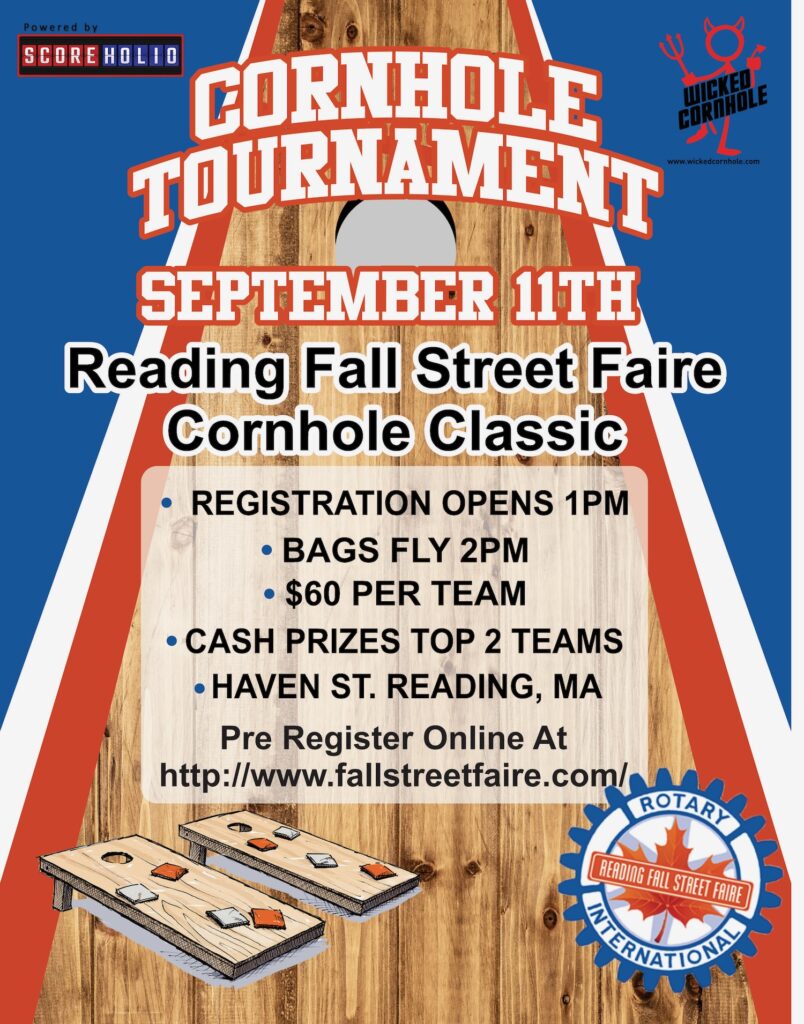 There is still time to register to play in the 3rd Annual Cornhole Classic. It takes place on Sunday, September 11, at the Reading Fall Street Faire. Bags fly at 2 PM. Registration for a team of 2 is $60. Cash prizes will be awarded to the top two teams. All players – from expert to novice – are sure to have a blast. Looking for a creative date idea? Want to have some fun with your teenage kid? Need an excuse to hang out with your best friend? Want a chance to brag to all your neighbors that you are the best Cornhole player in Reading? This is your answer. Register to play at fallstreetfaire.com.
Even if you aren't playing in the Cornhole Classic, you'll want to come watch your neighbors compete. Teams play tournament style with professional officiating from Wicked Cornhole.
The Cornhole Classic starts at 2:00, but the party starts sooner. At 1:00, watch the New England Patriots take on our Division Rivals, the Miami Dolphins, on a big screen TV – right outside on Haven Street. Quench your thirst at the beer garden (if you are over 21!) with Bitburger Pilsner and Bitburger Festbier. All proceeds from the Cornhole Classic will go to the Reading Rotary Club and the Fall Street Faire.
Once you've had your fill of football, beer, and cornhole, make sure to check out the rest of the Faire. Enjoy live entertainment on three stages!
The Reading Community Concert Band will kick the afternoon off at the Woburn Street Stage, between the Town Common and Venetian Moon. Throughout the afternoon, enjoy thrilling dance performances from LaPierre School of Dance, Encore Dance Academy, and the O'Shea Chaplin Irish Dancers. Enjoy fantastic live music from Alpha Band, Cait, and Pat, and Talk to the Hand.
Check out the Haven Street Stage on lower Haven Street by the Train Depot. Encore Dance Academy gets the party started at noon with an electric dance performance. Enjoy more fantastic dance from LaPierre School of Dance and great live music from Off Ramps, BJ Wass, Throwing Caution, Matt Pothier, Fifth Gear, and MC Killroy and Killjoy.
When you need to unwind, check out the Acoustic Corner, with beautiful music to relax and enjoy.
Volunteers still needed. The Reading Rotary is thrilled with the huge response to our request for volunteers to make the Fall Street Faire a success. However, we still have a few openings. If you can donate an hour or two on Sunday, September 11, we'd love to have you. See the open volunteer opportunities and sign up to help at fallstreetfaire.com.
Follow Reading Fall Street Faire on Facebook and Instagram to stay up to date on all the fun.