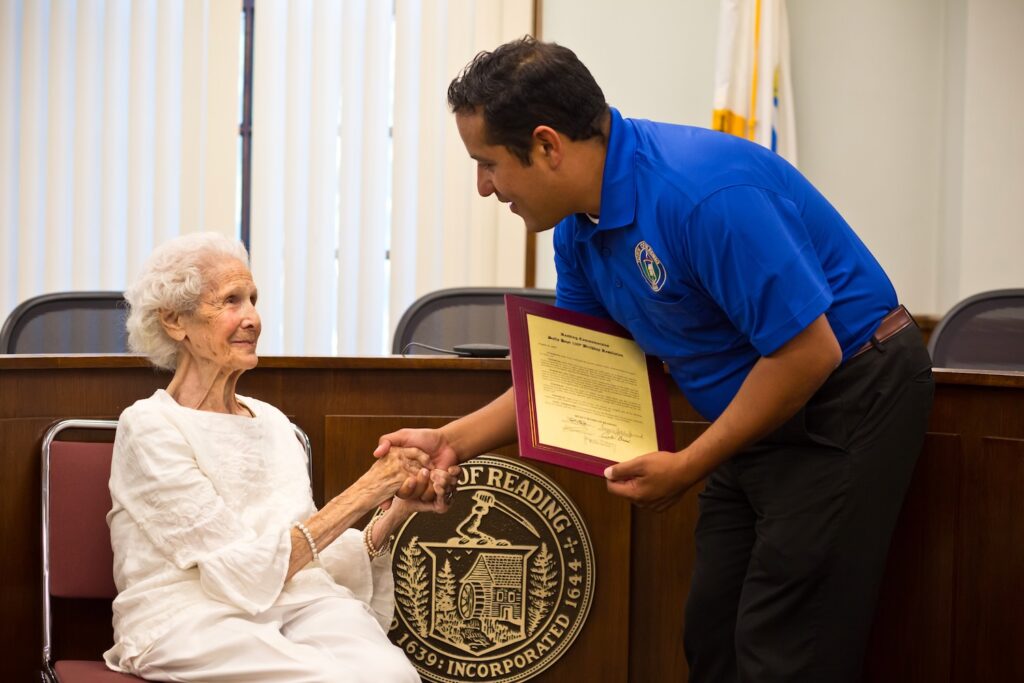 Reading, MA — Town Manager Fidel Maltez presented longtime Reading resident Sally Hoyt with a special proclamation yesterday at Town Hall. The proclamation, approved at Tuesday's Select Board meeting, reads:
WHEREAS, Sally Hoyt celebrated the joyous occasion of her 100th birthday on August 20, 2022: and
WHEREAS, Sally Hoyt was born on August 20, 1922, grew up in Somerville, and has lived in Reading for over 75 years where she and her late husband, Brendan, raised their 3 children, Brendan L. Hoyt Jr., the late John E. Hoyt, and Sally-Jean O'Grady, all of whom are descendants of the family that lived in Reading's Parker Tavern; and
WHEREAS, Sally Hoyt's public service to her community began in the 1960s and has been boundless, as she was involved in countless town interests and projects, such as winning a seat on the Select Board in 1990, serving on the Council on Aging for over 20 years, serving as Senate President of the Silver Haired Legislature, and serving as a Reading Constable, just to
name a few of her accomplishments and involvements; and
WHEREAS, During her years of selfless service, Sally Hoyt was the recipient of numerous awards, made many valuable contributions to her community, held multiple important positions in public and private agencies, and worked to change the world around her for the
better; and
WHEREAS, Sally Hoyt is and always will remain an integral part of the Reading community, and created a legacy of positive change and tenacity.
NOW, THEREFORE, be it resolved, that we, the Reading Select Board, joins with Sally Hoyt, her family, and the Town of Reading in wishing her a happy 100th Birthday.
Signed by the members of the Reading Select Board