State Commits Funds for Maillet, Sommes, Morgan Constructed Stormwater Wetland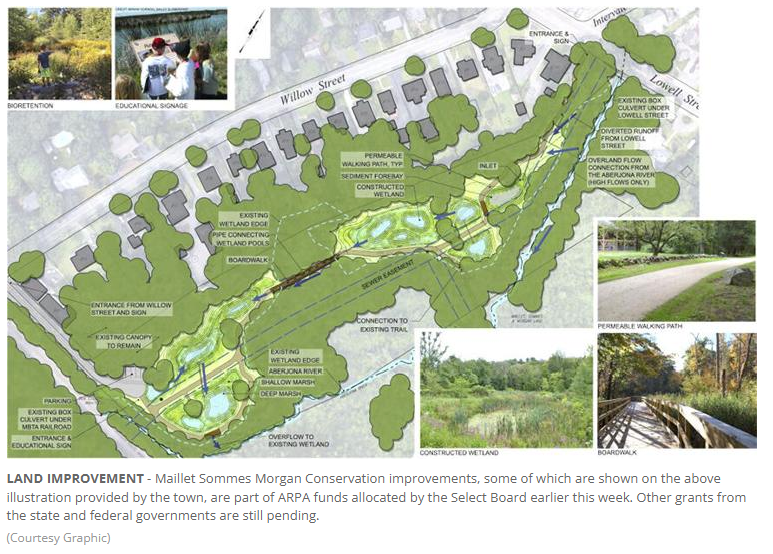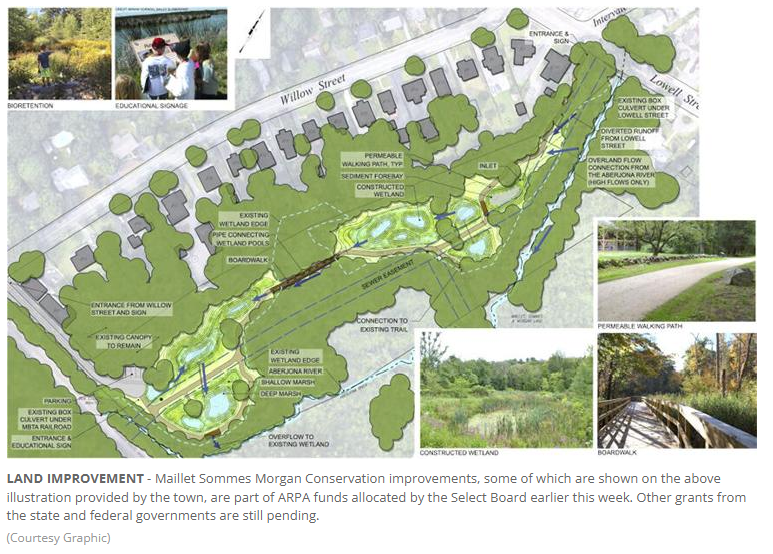 Reading, Ma — Today, the Commonwealth released $32.6 million in state FY2023 Municipal Vulnerability Preparedness (MVP) grants, including $2,116,578 for the Reading Maillet, Sommes, Morgan Constructed Stormwater Wetland located between Willow Street and Lowell Street. The grant is part of $8.6 million designated for Resilient Mystic Collaborative (RMC) cities and towns, said the Mystic River Watershed Association today, aimed at supporting flood and heat resilience projects from Woburn to Revere.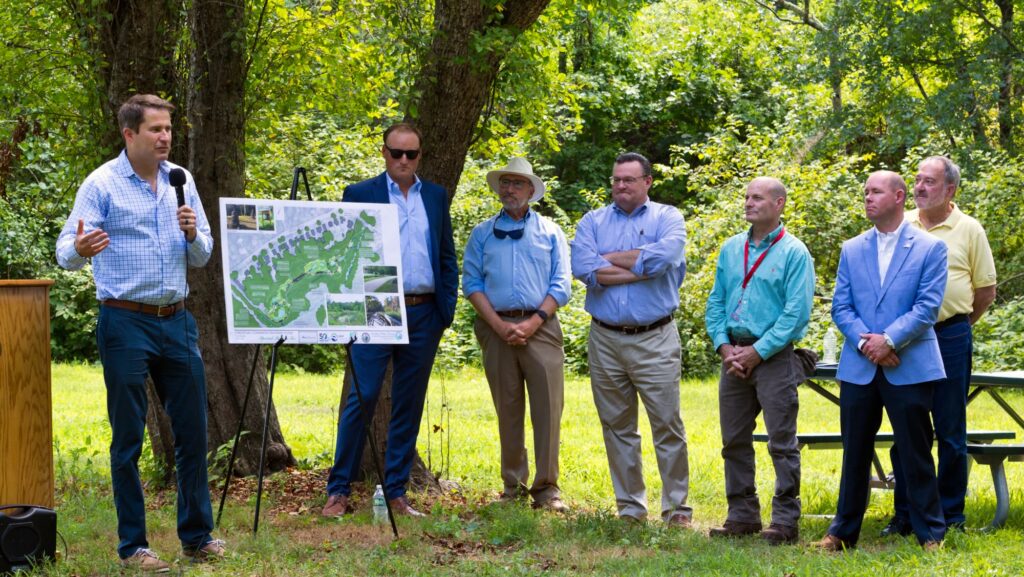 House Minority Leader Bradley H. Jones, Jr. (R-North Reading), State Representative Richard M. Haggerty (D-Woburn), State Senator Jason M. Lewis (D-Winchester), and Reading Town Manager Fidel Maltez joined with the Baker-Polito Administration today to announce the Town of Reading has been awarded a Municipal Vulnerability Preparedness (MVP) grant in the amount of $2,116,578 for flood reduction measures at the Maillet, Sommes and Morgan Conservation Area. 
"Reading understands that this is truly a regional issue that impacts multiple communities and requires a shared response," said Representative Jones. "When all levels of government and local stakeholders work together to achieve a common goal, good things happen. This grant award is a testament to Reading's perseverance and commitment to taking a proactive approach to increase stormwater capacity and mitigate the impacts of climate change." 
"This MVP grant is vital to our community and is an important step to address flood concerns and support stormwater management, as well as the overall effects of climate change," said Representative Haggerty. "I want to thank the local and state officials who have prioritized this local project including Governor Baker and Lt. Governor Polito, and the entire Reading Delegation." 
"I'm delighted to see Reading leading the way in identifying this wetlands site as an important resource for the community and the entire Mystic River watershed, and putting together a strong plan to secure this sizable state grant," said Senator Lewis. "The state legislature has prioritized funding for the MVP program because we understand how critical it is for local municipalities to receive both technical and financial assistance to help mitigate the growing impacts from climate change, such as increased flooding and ecological damage." 
In April of this year, the Reading legislative delegation submitted a letter of support on the town's behalf to Congressman Seth Moulton requesting a federal Community Projects grant to help fund this project. On August 2, Congressman Moulton joined with the delegation and other local officials in Reading to announce that he had secured preliminary approval for $1.5 million in federal funding as part of the FY2023 Appropriations Subcommittee bill.
Congressman Seth Moulton, along with Congresswomen Kathryn Clark and Ayanna Pressley, are working to secure an additional $12.2 million in Community Project grants through the FY2023 federal budget, bringing the total in new funding for heat and flood resiliency to nearly $21 million. Reading's portion of the federal funding would be $1.5 million.
Funded by an FY21 Municipal Vulnerability Preparedness (MVP) Action Grant and in coordination with the Resilient Mystic Collaborative and Mystic River Watershed Association, the Town of Reading is nearing completion of a final conceptual design for an existing conservation area to capture and attenuate stormwater impacting the Aberjona River by creating adjacent offline storage areas. The constructed stormwater wetlands will reduce flooding, enhance open space, expand the existing path and trail system, and improve wildlife habitat. The project will also provide an opportunity to increase stormwater quality by filtering sediments and pollutants through the treatment train and series of wetlands and marshes. 
"Our Reading team is excited about this historic grant award. We want to thank our State Delegation for their continued advocacy for Reading and our Governor and Lieutenant Governor, for the Commonwealth's funding that will make this resiliency project a reality. This project will provide local benefits but will also help our entire watershed manage stormwater. These nature-based solutions are critical as we address the impacts of climate change in our region," said Town Manager Fidel Maltez.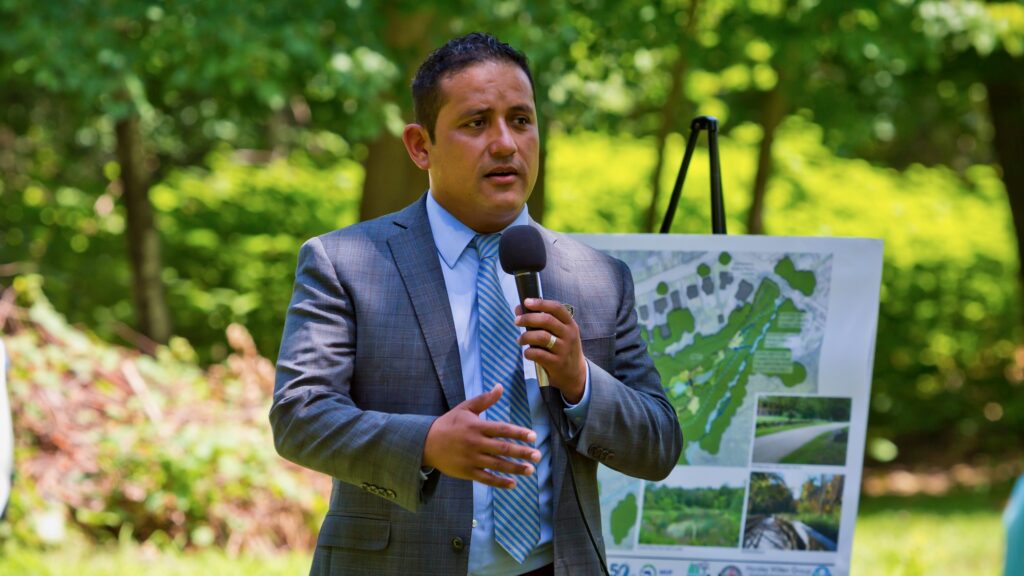 "We are excited to see the Commonwealth, through the MVP grant, support this project, which will make a significant impact on Reading and our neighbors by storing stormwater and reducing flooding along the Aberjona River," said Fidel Maltez, Reading Town Manager. "Now we wait to see the outcome of federal funding, and then we can get to work improving public safety, reducing property loss, enhancing our network of trails, and protecting our natural resources.