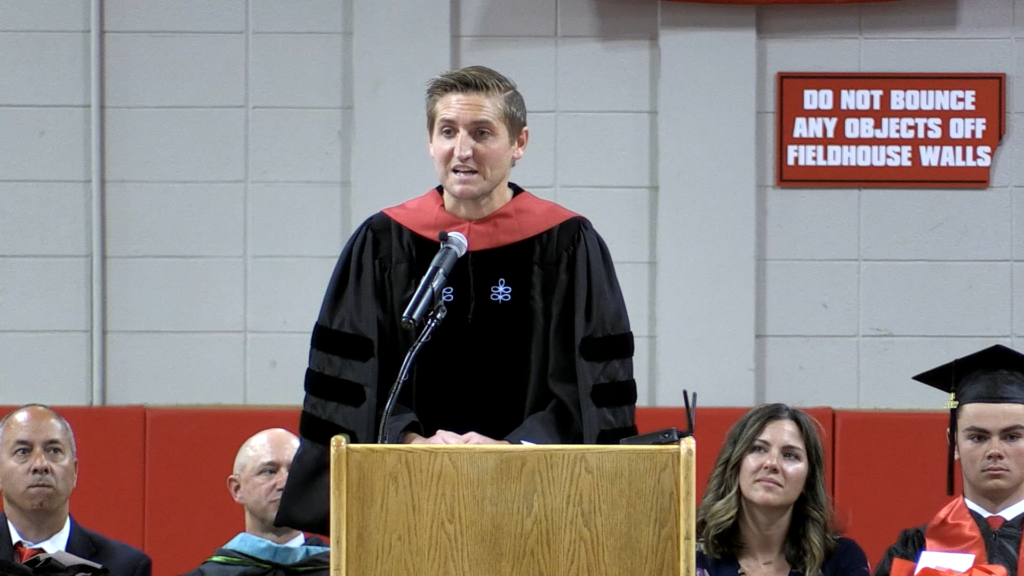 Good afternoon, Reading Community!
Members of the Reading School Committee, Principal Tracey, Faculty, Fellow Administrators, Distinguished Guests, Community Members, and most importantly, members of the Class of 2022 and their proud families and friends – it is an honor to stand before you today to congratulate our amazing RMHS class of 2022. To the class of 2022, this is your day – and on your day, I'd like to recognize two groups of people that have been instrumental in your path to graduation day.
First, to your families. Your families have been there for you since day one and have been by your side for your entire journey. They have supported you, believed in you, and served as your biggest cheerleaders. Please, take a moment today to thank and appreciate your families for all they've done for you. This, without a doubt, is one of the proudest and most memorable days of their lives.
Secondly, to your teachers and staff. Graduation day is one of the most rewarding days for educators – seeing you cross this stage and recognizing all of your accomplishments, academically and personally. These educators have cared for you, advocated for you, and challenged you to be your best. I'm sure each of you can think about many RPS educators who helped shape your journey from K to 12. Please, take a minute to thank some of those educators who have played such a pivotal role in your lives.
Today, I stand here with the greatest respect and admiration for what you've all accomplished. As I think about all of your accomplishments throughout high school, including getting to graduation day, I am particularly compelled and inspired by your resiliency. As you know, when I speak about resiliency, I'm referring to your ability to push through and overcome obstacles and to demonstrate toughness in the face of adversity. Resiliency is always one of the characteristics that I admire most in people, and it's been that way since I was a child. I can distinctly remember when I was in middle school and my cousin, also a middle schooler at the time, faced a life-threatening heart condition that required a heart transplant. Given that he had hemophilia, a medical condition that reduces the ability of blood to clot effectively, his path towards a successful transplant was especially long and complex. My cousin ultimately became one of a small group of individuals with hemophilia to ever successfully undergo a heart transplant. Since that experience, I have always, and continue to, hold a special affinity to the characteristic of resilience. I have learned to deeply admire the resilience that not only happens in these big moments, like the one I just described, but also in those day-to-day moments that test us, push us, and challenge us.
As I think about your journey to this day, I know that all of you faced individual challenges and obstacles that were unique to you, both in your personal lives and here in your RPS journey. In addition to these unique challenges, I know that every member of the graduating class made it to this monumental day during a time when the world has been turned upside down. From your freshman year through your senior year, you have certainly run the gamut when it comes to experience. You have dealt with remote, hybrid-remote, and traditional learning environments,
wearing masks, staying six feet apart, walking in the same direction, hand sanitizer, quarantine, testing, virtual activities, the list goes on. Furthermore, you've navigated a context where those around you have struggled in a variety of ways due to the significant impact of the pandemic. These experiences have undoubtedly challenged each of you – mentally, physically, and emotionally. While moving through high school during the most challenging of circumstances, you not only made it through, but you thrived. You've demonstrated tremendous accomplishment and success in the classroom, in our arts programs, on our athletic fields, and in serving our community. And, from everything I've heard and seen from this class, on a personal level, you've exuded empathy, kindness, and passion. As a collective class, you have modeled for our entire community what it means to be resilient, and what it looks like to excel in the face of challenge.
As you know, you are entering a world filled with all different challenges. Inevitably, as you move forward in your pursuit of personal and professional dreams, you will face all different types of challenges and obstacles coming at you through those big life moments and those smaller day-to-day ones. There will be setbacks in your pursuit of goals, barriers standing in the way of your dreams, and challenges in the relationships that you value and cherish. I could stand here today and tell you how I think you can be resilient in your future endeavors, but quite honestly, you've been the model for so many of us in our community. In the face of adversity, you have maintained a steady focus on your goals, used your networks of friends, families, and teachers for support, and stayed true to your values. This has been a recipe for resilience that will bode the class of 2022, and quite frankly all of us, well as we navigate an increasingly complex and challenging world. Class of 2022, we admire your resilience, we are proud of your accomplishments, and we are so excited for each of you and your future. On behalf of the Reading Public School District, I wish all of you health, happiness, and success in the years to come. Congratulations!
As Superintendent of Schools in the Commonwealth of Massachusetts, I hereby certify the Reading Memorial High School graduating class of 2022.