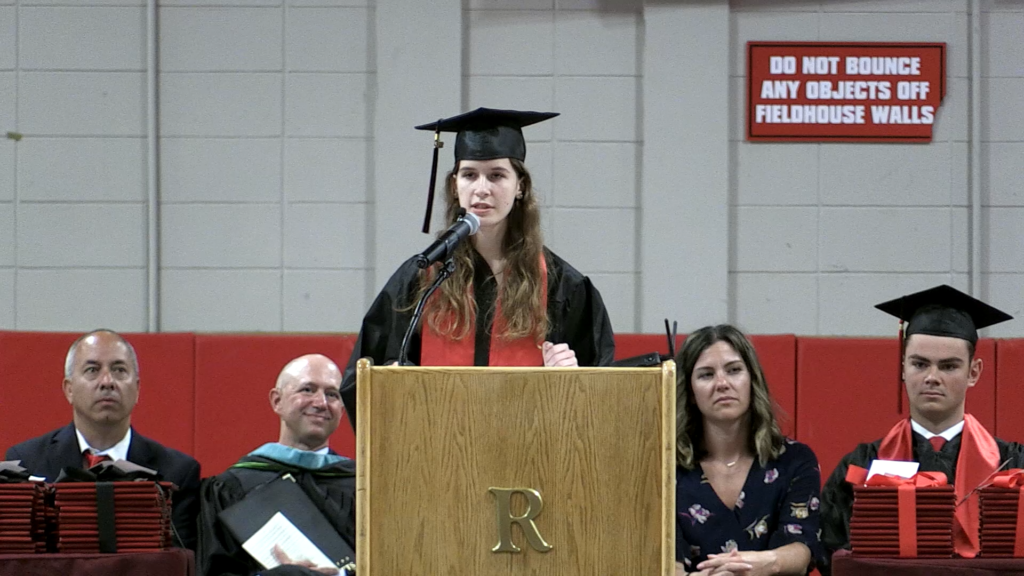 Hello, class of 2022, families, and Reading community! While it is an honor to address you all today, to me this situation is quite unexpected. Not only did I not expect to ever be given the honor to speak at graduation, but I also did not expect to be doing so in the midst of a global pandemic.
We all remember the early stages of quarantine life: only being able to see people from behind a mask and attending zoom classes in our pajamas. But covid brought more than just day-to-day quirks to our lives. In quarantine, I found it incredibly difficult to feel connected to others. I couldn't meet with my friends and communicating with teachers became difficult because it wasn't as simple as stopping by their classrooms to ask a question anymore. Quarantine certainly pushed our emotions into turmoil, but its effects lasted much longer than that initial period.
Despite being thrilled to finally return to school, my mental health remained as low as it had been when I was stuck in the house. My negative emotions found new heights every day and I was constantly in a state of anxiety. There were many tears as well as many hours spent lying on the floor of my room, staring up at the ceiling. I began closing my true self off from people, only showing them the side of me that was smiling and peppy. At least this way I could feel some sort of control over my life in these trying times. Still, I felt incredibly drained and wanted to give up.
While I can't see into the personal lives of others, I know I was not the only one feeling this way. At school, I witnessed many students become overcome with stress. They anxiously bounced their legs under their desks and fidgeted with pens until the clip came flying off. In fact, many students became so busy dealing with mental health challenges that they no longer had the energy to focus on schoolwork.
Thankfully, our community, who has boundless care and concern for our wellbeing, recognized our struggles and stepped in to help. Newsletters from guidance began to feature mental health resources for students. Teachers began to reach out more often. I think this was the first year I ever had a teacher sit down with my class and take notes on our feedback on how to alter the course so that it better suited our needs. And, of course, we have our incredibly hard-working school comfort dog, Cooper, who has brought smiles to so many faces.
There was also a sense of resilience amongst the students. With each other's support, we became determined not to let COVID stop us from enjoying our high
school experience. We took part in the activities that made us happy: sports, band, robotics, drama, etc. Both in school and on the field, we kept each other afloat with words of encouragement as well as tears of common suffering.
Seeing this class's unified desire to be happier, I became inspired to take charge of my own mental health. I slowly began to let go of my fear of judgment from others and started talking to people outside of my immediate circle of friends and outside of band. In doing this, I have learned so much about myself as well as the community around me.
However, overcoming adversity, especially in mental health, is not something that has a definite end. My relationship with my mental health will always be a work in progress. I will continue to persevere and try new strategies in order to overcome future challenges. I hope that our class will do the same. We worked so hard this year to hold our class together and as a result, we have been able to enjoy events like spirit week and prom. As I danced with my friends on the prom dance floor, surrounded by some people that I've known since the first grade, I really could not stop smiling. I truly felt happy.
Reflecting on this experience, I see that I was able to enjoy it because I was living in the moment. I urge everyone to do the same with their lives. Nothing lasts forever so we should do our best to enjoy things as they come. Celebrate your resilience to adversity, even if that adversity is getting through a single day. Nurture the friendships you have by checking in with those you care about. And above all, take care of yourselves. You are the most important person in your life so treat yourselves with respect and kindness.