READING — Chief David Clark has announced that the Reading Police Department will be participating in the Melanoma Police Patch Program throughout the month of May to raise awareness and show support for the fight against the aggressive form of skin cancer.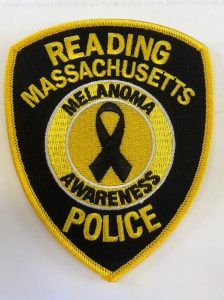 Members of the Reading Police Department will wear a special patch on their uniforms during the month of May, which is National Melanoma Awareness Month. This patch will also be available for $10 to members of the public.
The Reading Police Department will be partnering with Impact Melanoma, a non-profit group focused on raising awareness for people battling melanoma
Impact Melanoma is a non-profit group that educates individuals about melanoma, provides tips to help people avoid melanoma and other types of skin cancer, hosts support groups and donates to research groups to study the effects and treatments of melanoma.
In 2022, the American Cancer Society estimates that 100,000 new melanomas will be diagnosed, with about 7650 deaths as a result of the disease. The most important action you can take to reduce your risk of melanoma is to protect yourself from the sun.
Protection from the sun includes:
Wear a hat, sunglasses, sun protection clothing
Sitting in the shade, and not staying directly in the sun for large amounts of time
Wearing sunscreen when you are in direct contact with the sun, and actively reapplying in
Another tool to reduce your risk of skin cancer and melanoma is to get a skin check, especially if you see a new or evolving spot on your body. If residents don't have a dermatologist, they are encouraged to find one and make an appointment. Check yourself regularly, remind your family to do the same and consult your dermatologist if necessary. 
"I want to thank the Reading Police Department for their continued involvement in raising awareness of melanoma," said Deb Girard Executive Director of Impact Melanoma. "This is a serious disease that can affect everyone. Melanoma is the number one cause of skin cancer in the country and it is important to remain vigilant against the sun as we enter the warmer months of spring and summer."
Donors who would like to receive a patch should send a self-addressed stamped envelope to Community Service Officer Kristen O'Shaughnessy at the police station, 15 Union St., Reading, MA 01867, along with a check for $10 or more made out to IMPACT Melanoma.
Residents are also asked to include their email address when either sending or dropping off envelopes.
"Impact Melanoma is a great organization and we are excited to continue our work with them to help educate and spread awareness of this disease," said Chief Clark. "Members of our department, and residents in our community have been personally affected by melanoma and these patches are a great way to support an important cause."
To learn more about Impact Melanoma visit impactmelanoma.org.