June 8, 1934 – January 10, 2022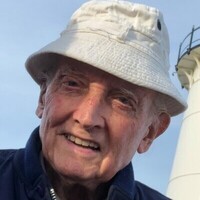 Thomas P. McKenna, a resident of Reading for 57 years, passed away at the Lahey Hospital & Medical Center in Burlington after a brief illness. He was 87 years of age.
Thomas the twin was born in Boston, Massachusetts with his brother Bill on June 8, 1934, the sons of the late Patrick and Catherine (Byrne) McKenna.  Tom was raised and educated at Cathedral Catholic School in the South End of Boston.  He was a graduate of Cathedral High School.  He enlisted in the United States Marine Corps shortly after graduation and was honorably discharged.  After his service, he fell in love with his wife Helen, and they married in October of 1961.  He attended and graduated from Merrimac College with a bachelor's degree in business management. Tom earned a scholarship from First National and attended grad school for a year at Cornell University. He worked for a short time as an Ironworker where he was able to save enough money to move to 6 Sweetser Ave in Reading (Mudville) – his homestead for 50 years. Tom found a career as a Sales Agent for Prudential Insurance. He always achieved the highest levels of performance and traveled to many awards conferences often bringing his family. He retired after 31 years.
Along the way Tom always found time to go camping where he grew to love sailing, swimming, singing by the campfire, playing pool, ping pong, and a competitive game of cribbage. In retirement, he summered in Maine at Bunganut Lake and wintered in Surprise Arizona. Tom was sure to attend mass regularly at St Agnes Parish but always found a Catholic Church when he was out of town. He was an active member of the Knights of Columbus for over 50 years
Tom was the beloved husband of the late Helen A. (Sughrue) McKenna.  Devoted father of Thomas J. McKenna and his wife Joyce, John T. McKenna and his wife Andrea, Kevin M. McKenna all of Reading, Kathleen A. McKenna of W. Medford and Michael F. McKenna and his wife Monica of Chelmsford and loving grandfather of Emily, Emma, Katie, Kylie, Michenzi, Devyn Rose, Bryanna, and Jayden.  He was the last of 8 siblings. 
Visiting hours will be held at the Douglass, Edgerley, and Bessom Funeral Home 25 Sanborn St. (corner of Woburn St.) Reading on Sunday from 3-7PM. His funeral will be held from the funeral home on Monday, January 17, 2022, at 9:30AM followed by a Mass of Christian Burial in St. Agnes Church 186 Woburn St. Reading at 10:30AM.  Burial to follow with military honors at Forest Glen Cemetery in Reading.  
In lieu of flowers, contributions may be made in Tom's memory to the Mission of Deeds 6 Chapin Ave. Reading, MA 01867.