March 10, 1929 – December 27, 2021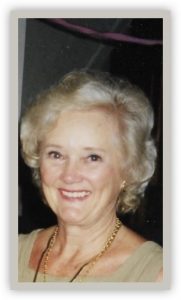 Former Reading, Massachusetts resident June Powers, (92,) died Dec. 27, 2021, in Port Charlotte, Florida.
June was born March 10, 1929, in Melrose Massachusetts, to Natalie and Harold Powell. She also had a brother Robert Powell, and they grew up in Wakefield and Malden, Massachusetts. She attended Malden High School where her beautiful voice allowed her to sing in the school choir. After high school, June attended Butera Art School in Boston. She was also a member of the Boston Ice Skate Club. In 1955 she married James "Wilson" Powers of Reading and had three children. In 1976 the family moved to Bowie, Maryland where Wilson worked at NASA. Upon his retirement from NASA the family moved to Tarpon Springs, Florida. In Maryland and Florida, June was a buyer of golf and tennis clothing at elite shops and loved interacting with the customers.
June's beloved husband Wilson, passed away in 1990. June continued to live in Tarpon Springs. A lifelong artist, June became a more serious art student and created numerous oil paintings from portraits to seascapes. She was very fond of lighthouses and was an avid collector of seascape art.
June leaves behind her three loving children, Kathryne, James Jr., and April, and four wonderful grandchildren, Joshua, James, Natalie, and Jason. Her family will terribly miss the beautiful voice of Grandma June.
Remembrance services are pending and will be held in Florida.