September 4, 1941 – January 1, 2022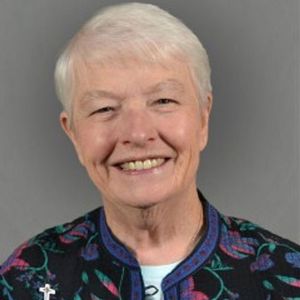 Sister Shawn Marie McDermott, SP, passed away on Saturday, January 1, 2022, in Reading, Massachusetts surrounded by family. She was 80 years old and was a Sister of Providence for 61 years. She will be dearly missed by all who knew her.
Sister Shawn Marie entered the Sisters of Providence Congregation in 1960, professing first vows in 1962 and final vows in 1967.
She graduated from Saint Mary-of-the-Woods College with a bachelor's degree in education. She earned her master's degree in education from Indiana State University and also has a degree in religious education from Boston University.
Of her ministries, Sister Shawn Marie taught first grade at St. Patrick School in Stoneham, Mass., from 1968-76, and was also the Director of Religious Education at St. Thomas More Parish in Durham, N.H., from 1976-82. Shawn was the Pastoral Associate at St. John the Baptist Parish in Peabody from 1985-1989. She then taught at St. Raphael School, West Medford from 1990-98. She also taught at St. Agnes School in Arlington, Mass., from 1998-2010. Her final ministry was as a hospice volunteer/minister to homebound in Eastern, Mass.
Shawn is the beloved daughter of the late Patrick and Bridget (Roche) McDermott. She is the loving sister of Joseph McDermott and his late wife Mary A. McDermott. She is the devoted aunt of Kate McDermott. She is also survived by extended family, cousins and so many friends, especially Mary Duddy, who was like a sister. Her life as a Sister of Providence was her greatest love, as were her Sisters.
Family and friends are kindly invited to gather and share memories with the family on Thursday, January 6, 2022, in St. Athanasius Church 300 Haverhill St. Reading from 10:15 am to 11:30 am followed by a Funeral Mass Celebrating Shawn's Eternal Life at 11:30 am.
Please click the following link to watch Sister Shawn's funeral live. readingcatholic.org