Winter coats needed to fulfill one mission: "Anyone who needs a coat, will have one."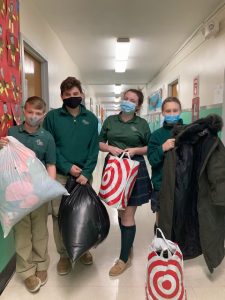 Stoneham, MA — In hard economic times and cold New England weather, a warm coat isn't a luxury… it is a necessity. In our very own community, there are thousands of children and adults who may otherwise not have access to warm winter coats this winter.
St. Patrick School is proud to be a collection partner for Coats for Kids & Families. Coats collected at St. Patrick School will be professionally cleaned by Anton's and given to local nonprofits, social service agencies, and schools for distribution. We are asking the community to donate coats for children and adults. Donations can be dropped off at the school between the hours of 9-3:30 Monday through Friday. 
The Coats for Kids & Families coat drive sponsored by Anton's Cleaners, Enterprise Bank, and Jordan's Furniture kicked off October 8 and runs through January 6, 2022. With the help of local schools and community partners, the organization has collected, cleaned, and distributed 1,150,631 since the program began in 1995.
"For nearly three decades, Caring Partners has had one mission: anyone who needs a coat, will have one," said Arthur Anton Jr., COO of Anton's Cleaners and founder of the program. "Local schools, companies, clubs, and nonprofits collaborate each year to collect, clean, and distribute 50,000 winter coats – it is nothing short of a miracle. We are proud this program gives back directly to the communities we serve."
Coats for Kids & Families accepts warm winter coats that are gently used, good quality, and all sizes (especially XL and infant/pre-K sizes). The drive does not accept coats with rips, tears, broken zippers, or permanent stains, nor can we accept sweatshirts, vests and spring coats. Coats will also be collected at all Anton's Cleaners, Jordan's Furniture, and Enterprise Bank locations through January 6th.
Partners for the 2021-2022 Coats for Kids & Families drive include Anton's Cleaners, Enterprise Bank, Jordan's Furniture, Boston 25, KISS 108, JAM'N 94.5, 101.7 The Bull, 100.7 WZLX, WRKO, and WBZ News Radio.
For more information, contact Stephanie Littlefield, Anton's Cleaners Community Relations, at 978-851-3721 x15 or Stephanie@antons.com.
To register your school or company online to participate or donate, or for more information, visit http://antons.com/cfk.