November 7, 1926 – October 16, 2021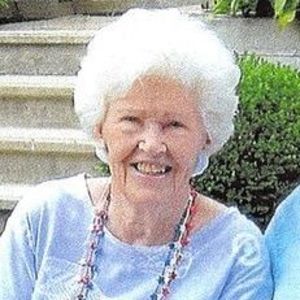 Katherine L. (Lyons) Holden, formerly of Reading, N. Reading, The Davenport Memorial Home in Malden and Sea View Retreat in Rowley passed away at Anna Jacques Hospital in Newburyport on October 16, 2021, at the age of 94.
Katherine was born on November 7, 1926, in Malden, one of five children of the late Katherine (Neal) and William Lyons. Raised in Medford, she graduated from Medford High School, worked at John Hancock Insurance in Boston, and met her best friend and future husband Robert J. Holden, Jr. at a church dance. They were married on September 27, 1947, and lived in Malden. They settled in Reading and raised a family of three children, Bob, Alane and Brian.
Kay flourished in the role of being a mother and homemaker. She dressed to perfection while hosting and cooking for a crowd and entertained her friends and family effortlessly. Kay loved trying new recipes, she was known as the "Jello Mold Queen" and was famous for her whoopie pies.
Her recipes have been passed down from generation to generation and continue to be enjoyed to this day.
She loved ballroom dancing, music, knitting, and was an avid sports fan and loved watching her Red Sox, Patriots, and Golf.
With the love and companionship of her husband Bob, she enjoyed traveling with her siblings throughout New England as well as California and Florida.
A joy to be around, Kay was often described as a pleasant and kind-hearted person. She selflessly offered her time and support to generations of family and maintained deep and personal connections to her siblings. Katherine brought everyone closer together while enriching the lives of those closest.
A beautiful person inside and out, Katherine's hospitable nature was reflected in the warmth of her smile and natural charm. She will be deeply missed, but her beauty, kindness, and positive impact will carry on as her legacy and remain in the hearts and minds of her family and friends.
Katherine was the beloved wife of the late Robert J. Holden, Jr. with whom she shared 71years of marriage. Beloved mother of Robert J. Holden, III and his wife Adrienne of Peabody, Alane H. Kelly, and her husband Michael of West. Newbury, and Brian W. Holden, and his wife Janice of Billerica. Dear sister of Marjorie Orender and her late husband Joseph of NH, and the late William Lyons and his late wife Anne, and the late Ethel Haskell and her late husband John, and the late Gertrude Arthur and her late husband Jerry. Cherished grandmother of Joshua, Michael, Seth and his wife Christina, Patrick and his wife Bridgette, Daniel and his wife Fanny, Kevin and his wife Brandi, Lucas, and Jacqueline. Adored great grandmother of Maeve, Gemma, Finn, Teagan, Aoife, Callum, and many nieces and nephews.
Services to honor Katherine will be private. In lieu of flowers, gifts may be made to the Jimmy Fund, P.O. Box 849168, Boston, MA 02284 or via www.jimmyfund.org/gift