MAMMOLA, Jeannie "Jennie" Age 77, of Reading passed away on October 6th after waging a long, hard-fought battle against declining health. She lived a life of selfless caring for and devotion to her entire family.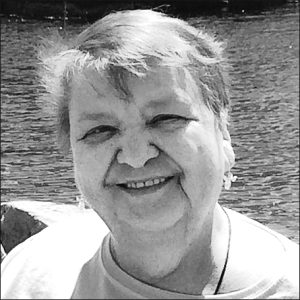 A native of East Cambridge, she was the loving daughter of the late Thomas A. and Lillian (Lebicz) Mammola; loving sister of Thomas A. Jr. of East Cambridge and Dominic ('Nick") Mammola and his spouse Suzanne of North Reading, the late Joseph S. and the late Benjamin V. ("Butch"). Jeannie loved her "kids" as she was lovingly "AJ" or "Auntie Jeannie" to her nephews and nieces – Thomas, Mark and Kirsten Mammola and Kasey Mastrocola. She was a loving great Aunt to Joseph, Kara, Kelly, Alison and Erin Mammola, Joseph, and Ainsley Mastrocola. She so looked forward to holding Jackson Mammola in February next year. Jeannie was pre-deceased far too many years ago by her most cherished friend and constant companion Loretta C. Verrico of Revere, MA. Jeannie leaves behind her loving, life-long neighborhood friend Lorraine O'Donnell who filled Jeannie's recent years with ever-present caring, friendship, love, shared memories and good times.
Jeannie grew up in East Cambridge when it was truly a working-class area and home to factories, multi decker houses, corner stores, popular teen hangouts as a neighborhood full of large first and second-generation immigrant families who as close relatives, neighbors and friends created a life long bond of shared concern, memories, and pride. Jeannie went to Cambridge public schools initially working afterward as a candy striper at the old Holy Ghost Hospital in East Cambridge, drawn there by her god-given gift as a caregiver. She later worked as a quality control supervisor for Data Packaging and Becton-Dickinson where her uncompromising expectation for individual excellence and accountability was a perfect fit. Most importantly, however, Jeannie's life will forever be remembered for her devotion to her family, selflessly serving as the go-to foundation of strength, care, and comfort. Throughout her life, she carried and delivered nourishing and healing love, care, and support to her each of her family members especially when life's misfortune of sickness and ill health struck. She was a sweet, soft, friendly person who cared about the well-being of others. She will be fondly remembered as having a fun-loving personality occasionally offering a "Jeannie-ism" that elicited many smiles and laughs. She possessed a lifelong high work ethic, was stubbornly proud, fiercely independent. Always candid and never shy, her loving heart always shone through her outward demeanor. Jeannie joyfully mused of her days of youth and fun particularly the St. Francis dances in the early '60s and the other fun occasions when she could dance to her favorite songs. She enjoyed her long-ago trips to Las Vegas and Foxwoods and visits to the natural beauty of Nubble Light in York, ME. Late in life, she enjoyed listening to oldies music and watching her favorite television shows. All those who knew and loved Jeannie will forever greatly miss her.
A private Memorial Service will be held later this year. To send a message of condolence, please visit donovanaufierofuneralhome.com