March 12, 1971 – October 1, 2021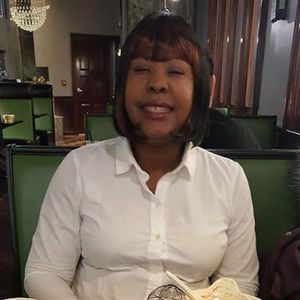 Laurence Marie Roussel, age 50, passed away October 1, 2021, due to Metastatic breast cancer. She was born March 12, 1971, in Chardonnieres Haiti. She married her long-time friend and lover Olritch Donnat.
Laurence loved to love on people, she loved to laugh and shared her love for cooking for her children Lauren and Skyla.
For many years Laurence worked as a Senior Analyst at Bank of America. It suited her heart. I remember always telling Laurence "Do what's right and what's good. Be kind and help others. The world can always use one more kind person. And if you can take it a step further, please do it for your children".
Her life was a living example of her favorite Bible verse Ephesians 4:32—"And be kind and compassionate to one another, forgiving one another, just as God also forgave you in Christ."
Laurence is survived by her husband, Olritch, and her 2 daughters, Lauren and Skyla. She is also survived by her mother, Enette, her sister Huguette, her brothers: Dupiton, Frantz, Bertin and Darlin and countless nieces, nephews and cousins.
Family and friends are kindly invited to gather and share memories with the family on Saturday, October 9, 2021, from 9 am to 10 am in the Barile Family Funeral Home 482 Main St. (RT28) STONEHAM followed by a Funeral Service Celebrating Laurence's Eternal Life at 10 am. Parking attendants and elevator available. Interment Charles Lawn Cemetery, Reading.
Please consider donations in memory of Laurence to Dana Farber Cancer Institute Breast Cancer 450 Brookline Avenue Boston, MA 02215  or at https://www.dana-farber.org/breast-cancer/.