1931 – 2021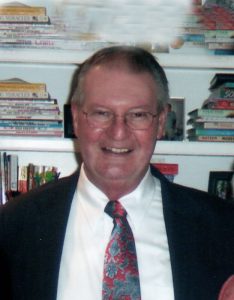 Edward G. Sheldon, a retired systems analyst at MITRE passed away peacefully on Monday, September 27, 2021.  He was 89 years old.  Ed was born in Grand Rapids Michigan. He was one of three children born to Edward and Grace Sheldon.  He grew up in Grand Rapids, Michigan.  He was a star baseball player at Central Catholic High School.  He then went to University of Detroit where he earned his Bachelor of Science Degree in History.  At the University of Detroit, he was a walk on to their football team where he played alongside Ted Marchibroda, who went onto to play for the Steelers, Cardinals, and head coach of the Colts.  After finishing college, he served from June of 1955 until June of 1958.  He held the rank of 1st Lieutenant and was stationed at Hanscom Air Force Base.  It was there that he was first introduced to radar systems, which eventually became his lifelong career.  It was at Hanscom AFB that he met his future wife, Priscilla Nix, at a daily mass held on the base.  They met in April of 1957, they married in November of 1957.  After leaving the military, he then went to work for SDC and worked on the engineering group developing the SAGE air defense system in Santa Monica, California.  They had their first child in July 1958.  He was then transferred Battle Creek, Michigan where they had their second and third children.  His last relocation for SDC was back to Massachusetts where their fourth child was born.  At Sage, he held the position of controller/ interceptor for the Sage System.  He finished his career working for 25 years at MITRE in Bedford as a Systems Analyst for Command Control Communication. 
Edward was a very humble, kind, and faithful individual.  His Catholic faith was a very important part of his life.  While living in Burlington, he taught religious education and was a lecturer on Sunday masses.  When he moved to Gloucester and Reading, he quickly established a connection with their local Catholic Churches.  Sports were a very big part of his life growing up and encouraged his sons as they played hockey and baseball.  Hockey wasn't his sport, but he still coached youth hockey in Burlington when his sons played.    He was also ever-present at all his grandchildren's sports and activities including hockey, baseball, softball, lacrosse, and dance.   Edward loved being near the water whether a lake, river, or ocean.  When his children were young, summer vacations were spent on the beaches of Seabrook, New Hampshire.  After he retired, he purchased a home in Gloucester close to Wingaersheek Beach which became the summer gathering spot for all his children and their families.  What was so special about Edward were qualities and values that he lived by.  His faith was strong no matter what life challenges he faced including the passing of his youngest son, Tim, and his wife's long struggle with dementia.  He was outgoing, a bit of a charmer, and had a quick dry wit.  He loved to laugh, tell stories, and spend time with family, friends, and soon-to-be friends.  He had a wonderful life filled with devotion, laughter, and love.
Edward was the devoted and loving husband of the late Priscilla Jean (Nix). He was the loving father of Mark & his wife Carol of Burlington, Steven & his wife Ginny of Burlington, Stephanie Woodward & her husband Michael of Burlington, formerly of Lexington, and the late Timothy and his surviving wife Cheryl Sheldon of Burlington. He was predeceased by his siblings; Ardis Veneklase and Paul Sheldon. Edward was the proud grandfather of Jennifer Jenkins & her husband Mark, Kristen, Lexi, Catherine, Ryan, Christina, Paige, Kayla, & Olivia Sheldon, Christopher Woodward, and Cory Woodward & his wife Michelle.  He was the great grandfather of Stella Woodward.
Visiting hours will be held at the Edward V. Sullivan Funeral Home, 43 Winn St., Burlington on Thursday, Sept. 30 from 4:30 to 7:30 pm. Funeral from the Sullivan Funeral Home on Friday, Oct. 1 at 9 am. Followed by a Mass of Christian Burial at St. Margaret Church in St. Veronica Parish, stveronicama.org, 111 Winn St. Burlington, MA 01803 at 10 am. Services will conclude with a burial in Chestnut Hill Cemetery, Burlington.  Memorials in Edward's name may be made to the New England Center for Homeless Veterans, nechv.org, 17 Court Street, Boston, MA 02108