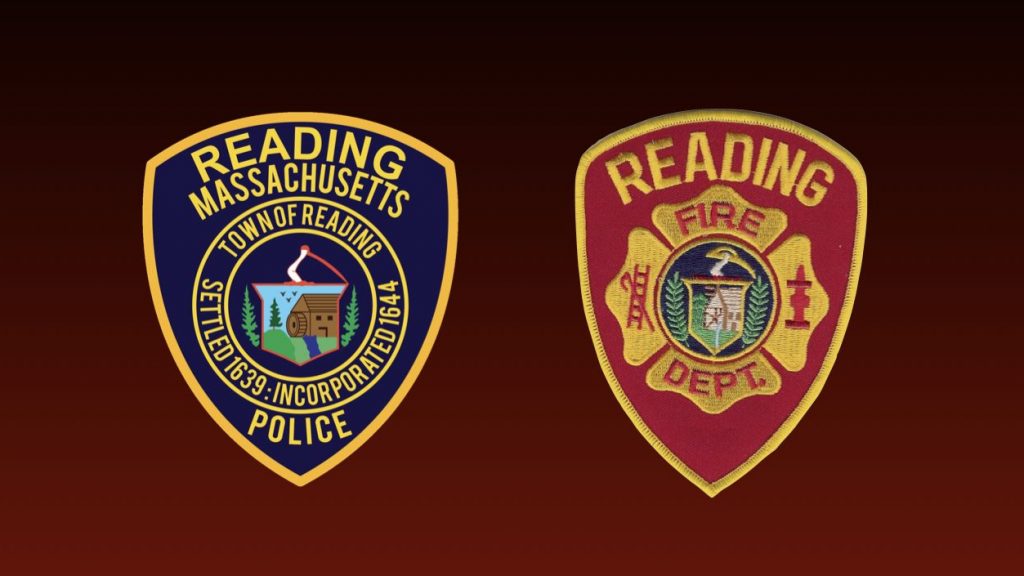 Reading, MA — Excerpts from the Reading Police and Fire Log:
Thursday, June 17, 2021
1:11am – Traffic Lights at Main Street and Salem Street Stuck on Flash.
1:16am – Fire Alarm at Harvest Road Residence.
7:46am – Prospect Street Resident Reports Wire Fraud.
8:22am – Investigation of Vehicle Crash on Salem Street.
8:41am – Officer Standing by with Traffic Light Repair Company.
9:06am – Parking Enforcement on Lincoln Street.
10:34am – Traffic Enforcement on Brook Street. No Citations.
11:05am – Disabled Motorcycle on Main Street.
11:14am – Directed Patrol on Hanscom Avenue. No Citations.
11:15am – DPW Picks up Deceased Cat on Salem Street.
12:05pm – Report of Child Throwing Toys Out of Third Floor Window on Main Street.
12:47pm – Commercial Alarm on Haverhill Street.
12:50pm – Main Street Resident Reports damage to Vehicle.
1:22pm – Investigation of Minor Two Vehicle Crash on General Way.
2:16pm – Lift Assist for Brewer Lane Resident.
2:24pm – Traffic Enforcement on Causeway Road. No Citations.
3:12pm – Verbal Warning for Prohibited U-Turn on Mt. Vernon Street.
3:21pm – Wallet Found on John Street.
5:57pm – Traffic Enforcement on Haverhill Street. No Citations.
6:51pm – Resident Reports Fraudulent Charges on Credit Card.
9:55pm – Traffic Enforcement on Brook Street. No Citations.
Friday, June 18, 2021
2:23am – Report of Person Out of Control Outside Bartlett Circle Residence.
6:54am – Private Investigator Working in Area the of Track Road and Line Road.
7:54am – Officer standing by While DPW Removes Debris from Salem Street.
8:07am – Complaint Regarding Construction Equipment Blocking Stop Sign on Lowell Street.
8:21am – Parking Enforcement at Reading Depot.
8:45am – Parking Enforcement at Coolidge Middle School.
9:26am – FD Investigates Odor of Gas from Appliance on Lowell Street.
9:27am – Traffic Enforcement at Killam Elementary School.
10:10am – Lift Assist for Belmont Street Resident.
10:30am – Traffic Enforcement on Catherine Avenue. No Citations.
12:10pm – Danvers PD Requests Assistance Checking for Stolen Vehicle on Washington Street.
12:48pm – Resident Reports Being Followed by Suspicious Person in Middlesex Avenue.
1:45pm – Lift Assist for Main Street Resident.
3:59pm – Complaint Regarding Tree Company Shutting Down Knollwood Road with no Detail in the Area.
4:17pm – Report of Lines Down on Vehicle in Van Norden Road Driveway.
4:59pm – Follow-up Visit with Dudley Street Resident.
5:05pm – Haverhill Street Resident Reports Parking Issues with Neighbor.
5:45pm – Officer Assists with Graduation at Birth Meadow Elementary School.
5:50pm – Erratic Vehicle Operation Reported on Ash Street.
7:03pm – Complaint Regarding Ten Racing Style Vehicles in Walkers Brook Drive Parking Lot.
6:18pm – Traffic Enforcement on Walkers Brook Drive. No Citations.
8:06pm – Traffic Enforcement on West Street. No Citations.
9:34pm – Follow-up Visit with Bancroft Road Resident.
10:32pm – Report of Trash Bag in the Middle of Main Street.
11:31pm – Rustic Lane Resident Reports Unknown Vehicle Parked in Driveway for Fifteen Minutes.
Saturday, June 19, 2021
7:33am – Commercial Alarm at Main Street Business.
9:32am – Martin Road Street Sign Down in Front of Forest Street Residence.
9:45am – Disabled Vehicle in Haverhill Street Rotary.
10:21am – Report of Vehicle Parked in Palmer Hill Avenue Impeding Traffic.
12:30pm – Report of Suspicious Person in Hospital Gown Sitting on a Bench on Main Street.
12:47pm – Report of Multiple Vehicles Parked on Eaton Street in No Parking Areas.
1:23pm – Crosswalk Sign Down on Bay State Road.
1:24pm – Disabled Vehicle on Pilgrim Road.
2:18pm – Alarm at RMHS Central Office.
3:34pm – Report of Storm Drain Cover Displaced on Dean Road.
3:49pm – Main Street Business Reports Nine Bottles of Tequila Stolen.
3:54pm – Bullets Turned In After Being Found at Mattera Cabin.
8:16pm – Manager of Walkers Brook Drive Business Reports Fifteen Race Cars in Parking Lot.
Sunday, June 20, 2021
10:03am – Officer Checking on Bicyclist Who May Have Been Injured on Haverhill Street.
1:00pm – Report of Vehicle Blocking Driveway and Intersection on Margaret Road.
2:20pm – Investigation of Minor Two Vehicle Crash at General Way Business.
2:39pm – Alarm at Parker Middle School.
3:38pm – Report of Hit and Run on South Street.
4:04pm – Suspect Arrested for OUI, Marked Lanes Violation, and Operating to Endanger after Two Vehicle Crash on Washington Street.
5:46pm – Report of Loud Music in the Willow Street Area.
5:51pm – Large Snapping Turtle on Main Street Causing Traffic Backup.
8:40pm – Main Street Southbound Traffic Being Diverted at Franklin Street.
9:06pm – Fire Alarm at Prospect Street Residence.
9:14pm – Verbal Warning for Marked Lanes Violation on Summer Avenue.
9:15pm – CO Detector Activation on Tennyson Road.
10:15pm – Customer at Walkers Brook Drive Restaurant Reports not Getting Food that is Paid for.
10:39pm – Lift Assist for Elderberry Lane Resident.
10:59pm – Report of Erratic Vehicle Operation at Salem Street Rotary.