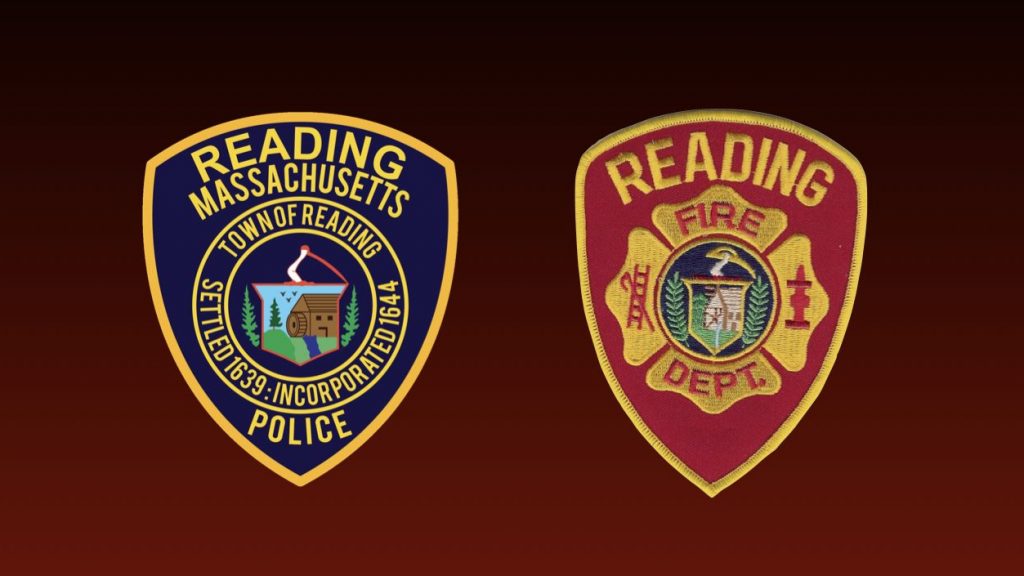 Reading, MA — Excerpts from the Reading Police and Fire Log:
Monday, June 14, 2021
1:30am – Check on Suspicious Vehicle in Main Street Parking Lot.
1:36am – Directed Patrol of Parkview Road Property.
6:56am – As a Result of a Disabled Vehicle, One Suspect Arrested for DUI.
11:00am – Disabled Vehicle on Lowell Street.
11:24am – Branch in Roadway on Forest Street.
11:34am – Fire Hydrant Out of Service on Charles Street.
11:44am – Summer Drive Resident Reports Their Drink was Possibly Spiked at Saturday Party.
12:47pm – Village Street Resident sports Possible Exposure to Rabies.
1:30pm – Dog Stuck Between a Propane Tank and a Fence on Grove Street.
2:50pm – Washington Street Owner Wants Vehicle Removed from Property.
3:09pm – Wakefield PD Requests Message Delivery to Batchelder Road Resident.
4:23pm – FD & PD Informed that Campers will be on Site at Camp Rice Moody from 7/6/21-8/31/21.
4:50pm – Investigation of Fire Alarm on Forest Street.
5:13pm – Verbal Warning Issued for One Way Violation on Lowell Street.
5:30pm – Disabled Vehicle on Lowell Street.
6:16pm – Fire Alarm Activation on Taylor Drive.
Tuesday, June 15, 2021
12:28am – Sweetser Avenue Resident Reports Odor of Gas.
7:48am – Palmer Hill Avenue Resident Complains Regarding Parked Vehicles.
7:57am – Commercial Alarm at Main Street Business.
8:35am – Officer Assist with Funeral Procession on Sanborn Street.
9:38am – Hypodermic Needle Found on South Street.
12:14pm – Vehicle Disabled by Manhole Cover on Locust Street.
12:49pm – West Street Resident Reports Stolen Vehicle Last Seen on March 6, 2021.
3:11pm – Union Street Resident Reports Past Damage to Vehicle.
5:03pm – Report of Suspicious Persons Offering Cookies to Youths.
5:13pm – Arrest of Suspect for Drinking Alcohol in the Road.
5:41pm – Cruiser has Flat Tire on Main Street.
7:04pm – Verbal Warning for Speed on Lowell Street.
7:31pm – Lift Assist for Brewer Lane Resident.
7:34pm – Complaint Regarding Volume of PA System at Austin Preparatory School.
7:59pm – Franklin Street Resident Reports Missing License Plate.
8:23pm – Report of Person Taking Pills on Franklin Street.
9:27pm – PD Requests FD Evaluation of Bay State Road Resident.
Wednesday, June 16, 2021
1:39am – Check of Suspicious Vehicle at Coolidge Middle School.
7:47am – Complaint Regarding Illegally Parked Vehicles on Lincoln Street.
8:22am – Follow up Visit Regarding Illegal Dumping on Intervale Terrace.
10:16am – Parking Enforcement at Depot.
10:26am – Traffic Enforcement on Charles Street. No Violations.
12:03pm – Report of Young Person Pretending to Jump Out in Front of Vehicle on Bancroft Avenue.
12:13pm – Large Turtle Impeding Traffic on Lowell Street.
12:33pm – Traffic Enforcement on Birch Meadow Drive. No Violations.
2:24pm – Officer Covering Crossing Post on Birch Meadow Drive.
2:25pm – Complaint Regarding Construction Vehicles Impeding Traffic on Bancroft Avenue.
4:36pm – Report of Shifting Plates in the Roadway on Main Street.
5:17pm – Report of Two Vehicle Crash on Walkers Brook Drive.
6:29pm – Lisa Lane Resident Reports Check Fraud.
6:39pm – Fire Alarm Activation at Taylor Street Apartment Building.
6:56pm – Smoke Detector Activation at Taylor Street Apartment Building.
7:04pm – Resident Reports Losing Phone in Memorial Park.
7:29pm – Roaming Traffic Enforcement on Summer Avenue. No Citations.
7:38pm – Traffic Enforcement on Symonds Way. No Citations.
8:42pm – Report of Loud Vehicles in Walkers Brook Drive Parking Lot.
8:59pm – Roaming Traffic Enforcement on West Street. No Citations.
9:20pm – Report of Dog Barking in a Car on Main Street for a Long Period of Time.
9:45pm – Fire Alarm Activation on Salem Street.
11:14pm – Green Street Resident Reports Unwanted Guest in Apartment.