Members of the Reading School Committee, Principal Boynton, Faculty, Fellow Administrators, Distinguished Guests, Community Members, but most importantly, members of the Class of 2021 and their proud families and friends, both virtual and here in person, it is with great pride that I address and congratulate all of this year's Reading seniors- those of you who met the graduation requirements here at the high school and those who attended schools out of our district. As collective members of the Reading Public Schools, each of you have reached a vital milestone in your life. You have earned our congratulations and recognition and now you are ready to make your own imprint on the world.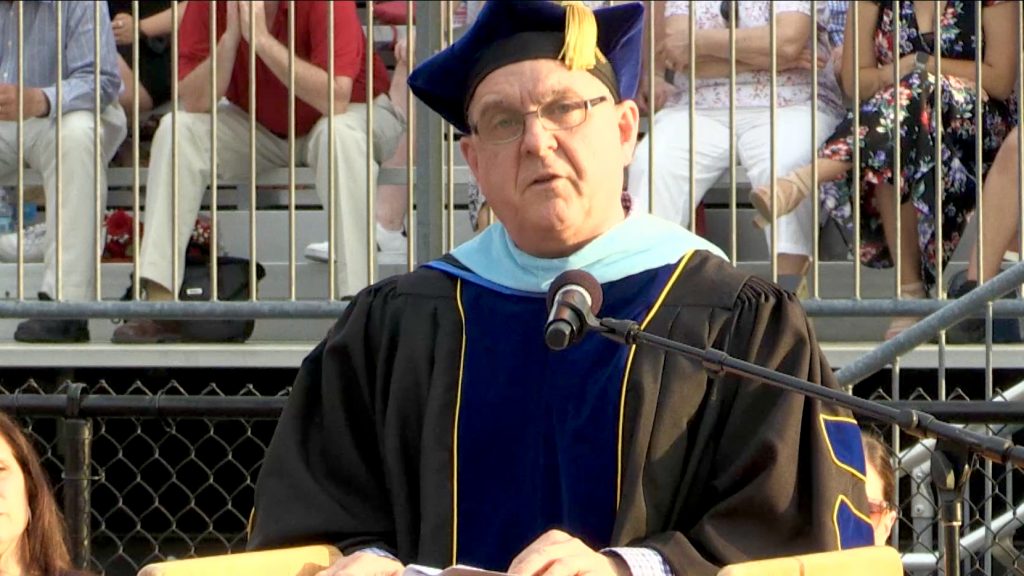 Your class story has been the bookend story of the class of 2020. Where the class of 2020 had the last four months of their school year remote with very few activities, you started the school year remote, moved through two phases of hybrid learning, and then to full in person with many activities and traditions celebrated. You have endured attending Zoom classes, wearing face masks, and learning how to speak and understand "mask language". Hand sanitizing, drinking bottled water, participating in pool testing, being quarantined, staying 6 feet apart from others, walking in one direction, driving yourself to games, virtual concerts, and shows, and finally, vaccines became the norm as the school year went on. You have been resilient, persistent, and realized that some things are not worth getting upset about. This journey has been extremely unusual, a learning experience, and certainly one you will always remember.
At the same time, we have endured this pandemic, we have seen firsthand a rise in tensions focused on social justice and racial bias across our country. We have also witnessed our democracy getting challenged with an Insurrection at our Capital in January. You as a class have been active in discussions and your participation in peaceful rallies and demonstrations shows that you want to be involved and that you want your voices to be heard. When living in times of uncertainty and limited resources, tensions rise, like a simmering volcano ready to erupt. These two competing crises are intertwined in many ways and as a class, you have an opportunity to rise above the crises and lead. We are confident that you will do just this. You are the future and your voices will matter. We know that you are leaving Reading equipped with the knowledge and tools to be informed citizens to promote for change.
So this brings us to why we are here today at a very positive milestone in your life…your high school graduation. I am proud of each of you and the resiliency you have shown throughout this pandemic. I was also moved by the way our teachers, administrators, nurses, food service, custodians, secretaries, paraeducators, and technology staff rallied around you to ensure each of you were able to get to this incredible milestone. Our town officials, police, fire, and health were instrumental in keeping our town safe during these last 16 months. They are all the true unsung heroes. Your parents and relatives, who were also dealing with the challenges of this pandemic, have played an instrumental role. When you have a moment, please give them virtual hugs and thank you's for making this a meaningful year in your lives. In fact, let's take this time to applaud them for being with you each step of the way.
Like every class, the Class of 2021 has some amazing stories to tell. You may not even know all of the skills, talents, aspirations, and dreams of your classmates. Over the next few minutes, I want to share with you some of those stories. It is stories like these that continue to give me hope and inspiration that our future leaders are here on this field this evening. I recognize that this is not an exhaustive list as each of you have unique skills and talents that will take you far.
Jessica Noonan, Ashley Pacelli and Danielle Percy have completed their senior year of high school by taking Dual Enrollment courses at Middlesex Community College. They excelled taking classes in such varied disciplines as Psychology, Marine Biology, and Renewable Energy Resources.
This past September, William Merry connected with the Curtis Guild Elementary School in East Boston when he learned that they were experiencing a shortage of adequate student desks. Will, along with some help from his Dad, built and delivered 26 school desks for students to use during remote learning.
Gerald Cutone is a player for the US Men's National Field Hockey Team and scored the opening goal for the team in South Africa in February 2020.
Bryce Dahlgren will be taking his skills and talents and going on a two-year mission trip. His destination is unknown at this point, but we wish him a safe journey.
Trevor Conroy will be headed to Georgia to train as a lineman.
Alex Faulkner chose to pursue his interest in a trade in automotive technology by enrolling in a full-time dual enrollment program at Ben Franklin Institute of technology for his entire senior year. He earned enough credits to be a sophomore next year.
Jessica Busick took classes at Beverly School for the Deaf to learn American Sign Language. She is classified as an "advanced" student and is currently completing an internship there and will continue on in the field.
Samantha Lyons worked as a Field Hospital Registered Nurse Assistant during the height of COVID in the spring. She would do her classes online during the day and then would drive into Boston to work the afternoon or overnight shift at the field hospital. She did this until the field hospital had their very last patient. She is going to school to major in pre-med.
Ellie Siu moved from Hong Kong to Reading just days before she started ninth grade. Ellie was quick to independently adapt & navigate a new educational system. She took initiatives to take more challenging classes and to double-check that she understood the expectations of her teachers. Not only has she thrived in the sciences, but is also an extremely talented art student. Ellie will be pursuing a pre-medicine track at Northwestern University.
Four of your classmates are pursuing education with a goal of becoming a teacher. Riley Murphy, Casey Waldman, Sam Gualtieri and Maddy Yurewicz will be pursuing education majors that focus on shaping the minds of future students. Thank you for choosing this path.
Last, but certainly not least, I am also proud to say that we have five members of the Class of 2021 who will be making commitments to our armed forces. Peter Iannuzzo will be joining the Air Force, Alexander Del Valle Ortiz will be enlisting in the Army, Brian Duarte and Kung Patel will be joining the Marines, and David Swanson will be in the ROTC at Ohio State University.
To each of you, thank you for defending our country and doing such important work. We wish you a safe journey and Godspeed.
These students are only a few of the many examples of this graduating class who are the unsung heroes among us. Each of you have amazing stories to tell and each of you will be pursuing your own paths whether it be higher education, the military, vocation, or joining the workforce. It reaffirms my belief that our future is in very good hands.
During my twelve years as Superintendent of the Reading Public Schools, I have used the power of the story during my graduation speeches to give each graduation class inspiration, guidance, advice, and hope for your own future. I have one more story that I would like to share with you today, my final as a Superintendent of Schools, and that is my own story. I tell you this story not for you to learn more about me, but to share with you what I have learned during my own journey and that an ordinary person like me was able to make a difference in the lives of many others. My hope is that what I have learned I can share with you as you continue through your own journey.
I grew up right next door in North Reading. My family was a typical blue-collar family where both of my parents had to work to support my younger brother and me. My mother worked for the Town of North Reading for over 40 years in the Finance Department and my father worked for Raytheon as an Inspector. They taught me the importance of dedication, loyalty and being true to yourself and others. When I was growing up, my Italian immigrant grandparents took care of me a lot and taught me the importance of hard work and perseverance. They owned a chicken farm and grew vegetables and I spent many years helping out in the fields and farm. My grandfather was a painter and a carpenter, and my grandmother was an avid Red Sox fan who taught me to always have hope in that someday they would win a world championship. In those days, the Red Sox always broke our hearts.
My dad was disabled for the last thirty years of his life and was not able to work, so we learned to do more with less. Material goods were not important. Working hard and getting a strong education were. I had some amazing teachers in the North Reading Public Schools, very similar to those we have here in Reading. I had role models in my coaches and teachers who I looked up to and learned from in many settings. They cared about us as students and I felt that in the interactions and lessons that they taught.
I graduated from North Reading High School with high honors and decided that I wanted to go to college and major in premed. I was the first in my family to attend college, and for those of you who are in the same situation or have heard your families speak of this, there is pride in knowing you have accomplished this task. I was always interested in helping others and biology and physiology were my favorite subjects, so I applied to and was accepted to many colleges and universities. Unfortunately, we were not able to afford the tuition, so I decided to stay local and attend the University of Lowell where I majored in Biological Sciences. I loved my classes and labs, did very well, except for Organic Chemistry, which for me, was impossible. During my Junior and Senior year at ULowell, I did laboratory work in Viral DNA and RNA research under a Virologist where I discovered a mutation of a virus that received some recognition in the medical world. I did the first of the many presentations of my life at a Medical Conference in Boston on my findings. It was my first major achievement. I still remember it like yesterday.
During this time, I decided that I would rather spend my career in education than laboratory research. I was inspired over the years by my teachers and coaches and I felt teaching and working with the next generation of children was the career that I wanted to pursue. I shifted gears, entered student teaching, and completed my Bachelor's Degree. It was at that point that I began my teaching career right down the street at Austin Preparatory School where I taught High School Biology and coached Varsity Soccer. During my four years at Austin Prep, I learned the value of teamwork, coming to work every day, giving it your best, and gaining inspiration in the work of teaching students. To remain an active member in the school community, I coached Soccer, Basketball, and Baseball where I became a mentor for several athletes. I also continued my interest in the medical field by becoming an EMT and a firefighter in North Reading.
After four years at Austin Prep, I felt that I needed to professionally grow as an educator. As much as I loved the people, the culture, and the atmosphere at Austin Prep, I was getting stagnant and needed to pursue new opportunities. I applied to Reading Public Schools where there was an opening for a High School Biology Teacher. Ironically, I was called for an interview for a middle school science position at Coolidge. At first, I thought, why would I want to teach middle school students? However, the more I thought about it, I realized that this was the challenge that I was looking for. I took the risk, accepted the interview, and was appointed as a Grade 7/8 science teacher at Coolidge. I have been in Reading ever since as a teacher, Assistant Principal, Principal, Assistant Superintendent, and Superintendent. During that time, I also earned my Master's Degree at the University of Lowell and my doctorate at Seton Hall University. At the beginning of my journey in the Reading Public Schools, I married my wife Laurie, who I met at ULowell and our daughters Erin and Shealagh graduated from Reading Memorial High School in 2014 and 2016, respectively. Both have pursued careers in education, and we could not be prouder of them.
I share this story not to just speak about me, but to let you know that a journey can start small, change directions, and grow into a calling if you work to find the right fit. During my above journey as an educator, a colleague, a supervisor, a husband, a father, a son, a family member and a friend, I have always based my actions on some core principles. I would like to share those core principles with you as you enter the next phase of your journey.
My first core principle is to pay it forward which means that instead of paying someone back for a good deed, you do a good deed for someone else. I have been blessed over the years to have family, friends and colleagues pay it forward for me. I have always believed in paying it forward for others through community service, in my role as a leader, or just doing a random act of kindness. When you pay it forward, you're usually changing someone else's circumstances for the better. Sometimes, you're saving another person's life without even realizing it.
Another core principle of mine is the Zulu philosophy of Ubuntu which means, "I am because you are…my humanity is tied to yours". A concept that is powerfully demonstrated by the relationship between educators and their students. I have always believed that I am a better person by the people that I work with. I learn a lot from them, and I hope that they learn a lot from me. As a teacher and a leader, I always put the needs of students as a top priority and I have practiced that throughout my entire career. You can always accomplish more as a team instead of a group of individuals. Putting your own personal needs above everyone else just leads to divisiveness and dysfunction.
My next core principle is to take care of yourself physically, emotionally, and spiritually. Living a healthy lifestyle is going to be the single most important thing you can do. When I turned 50, I began to take up yoga and running and it is one of the best things that I did for myself. Since then, I have run in several races, including 5 marathons. Yoga allows me to provide time to clear my mind of all of the distractions of a busy day. Nourishing mind, body, and spirit matters.
My final advice to you is to be flexible in your thinking, seek to learn something new, and diversify your experiences. When you stop learning, you stop growing as a person. Treat every experience as a learning experience. The learning experiences that I had at ULowell in the Virology Lab helped shaped my thinking throughout this year during the pandemic on how to address learning, health, and safety in our school district. Can you imagine what would have happened if we were not flexible during this pandemic? Many of you are taking advantage of this next step by continuing your education, taking a gap year to learn new experiences, joining the workforce, learning a trade or enlisting in the military to serve our country. As we have seen during this past year, the problems are going to get more and more complex and we will need people like you to be creative and improvise new solutions to these complex issues.
Finally, I want to thank the class of 2021 for sharing this journey with me over the last 13 years. When you were in kindergarten, I took over for Superintendent Patrick Schettini who became ill and was not able to return. Like you, I was excited, but uncertain about what my journey was going to look like and where it was going to take me. I have been your Superintendent ever since and I hope that your journey in the Reading Public Schools has been a worthwhile learning experience that will prepare you for your next path in life. It is ironic that we are both getting asked the question, "So what are you going to do next?". My response is, "I am living the dream." I hope you are too.
To that end, my final wishes for you, the class of 2021 are as follows:
I wish each of you all of the success that you think you need.
I wish you the tenacity, the courage, and the good fortune to someday find life's work about what you feel passionate about rather than settling for one that neither challenges, nor fulfills you.
I wish you a sense of satisfaction and self-worth that comes from using some of your talents and some of your energy to help others who are in need.
I wish you the wisdom to not forgo the love of family and friends in some relentless pursuit of material success.
I wish you the perspective to forgive yourself and learn from the mistakes which are inevitable.
I wish you to have the strength to never give up, because by not giving up, you will always have a chance to accomplish whatever you want to do in life.
Finally, and probably the most difficult, I wish that you not become so preoccupied with achieving some cherished goal on some far away day in some far away land that somehow you fail to appreciate each and every day of your life.
Class of 2021, you have a bright future in this new and challenging world. Embrace the opportunities. We look forward to seeing where your adventures will take you, and how each of you will make a difference. We are very proud of you and we will be rooting for you as you navigate your own journeys. On behalf of your parents, family, educators, and the entire Reading Community, I congratulate you on your graduation. I wish you good fortune, happiness, and much success on your journey ahead!