January 26, 1946 – May 31, 2021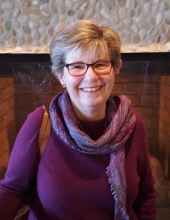 Margaret Dealy Caouette was born in Boston, MA, a long-time resident of Melrose and Reading MA, passed peacefully on May 31, 2021, at the age of 75. She was the wife of Damase Caouette of Wakefield and Reading MA, the daughter of the late Paul Dealy Sr. and Helen (Brown) Dealy from Winthrop, MA, Wolfeboro, NH and Stoneham, MA, mother of Matthew Joyce and his wife Rebecca of Somerville, MA and Jennifer Buron and her husband Gregory of Renton, WA, sister of Paul Dealy Jr of Grand Rapids, MN and Anne Dealy of Stoneham and Reading, MA. She was grandmother to William, Michael, and Gloria Joyce and Maximilian, and Alexandra Buron. She was stepmother to Robert, Carol, and David Caouette and grandmother to Robert's children, Michelle and Alexander, and aunt and cousin to many more beloved family members.
Margaret was educated in the Stoneham, MA school system, received a Bachelor's degree from North Adams State College, and was an elementary teacher in the Wilmington, MA school system and St. Mary's in Melrose, MA. She worked for many years as an account manager at Blue Cross, Boston MA, and Delta Dental, Cambridge, MA.
Margaret 's faith, family and friendships guided her life, serving her church and community with a commitment to make everything better. Her love for cooking and baking and caring for everyone around her was her legacy to all who knew her.
Gately Funeral Home, 79 W. Foster Street, Melrose, MA will hold a viewing on Sunday, June 6, 2021, from 2-5 pm with a funeral mass at Most Blessed Sacrament Parish, 1155 Main Street, Wakefield, MA on Monday, June 7, 2021, at 11 am. In lieu of flowers, donations can be made to the Carmelite Sisters of Danvers, MA at http://carmelofdanvers.org/.