December 17, 1931 – April 11, 2021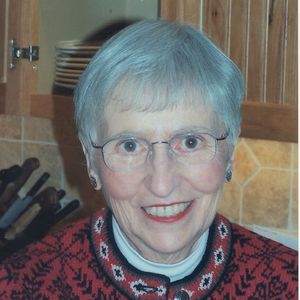 On Sunday, April 11, 2021, Ellen Shoemaker Slack passed away peacefully surrounded by her family at the age of 89.
Ellen was born on December 17, 1931, in Syracuse, New York. She is the daughter of the late J. Warren and Kate (Wheelock) Shoemaker and the sister of Mabel "Mabs" Harris and the late William Shoemaker. Ellen graduated from Winchester High School in 1949 and Centenary Junior College in 1951.
A highlight of her post-college years was a grand tour of Europe with Lois, her best friend and future godmother to her two children. Upon her return from Europe Ellen took a position at John Hancock in the Old Hancock building in Boston.
Ellen married Verne J. Slack of Winchester in 1957. They settled in Reading to raise their children, Jennifer and Jeremy. After spending several years as a dedicated and loving stay-at-home mom, Ellen spent many years as an executive assistant working at Addison Wesley Publishing and C.R. Bard before retiring in 1996.
Ellen was proud of the 50+ years she spent as a Winchester Hospital volunteer and was grateful for the friendships she made as part of that community. Ellen was also a faithful and active member of The Church of the Good Shepherd in Reading where she also formed life-long friendships. As a parishioner, she served as member then head of the Altar Guild for many years. She also took on the duties of wedding coordinator, a role she found rewarding.
A wonderful baker with an unsurpassed apple pie, Ellen also enjoyed knitting, dancing, reading and spending as much time with her grandchildren as possible. A great fan of written correspondence, Ellen loved staying in touch and up to date with not only all of her extended family, but with her many friends and their families as well.
Ellen is survived by her son, Jeremy Slack, her daughter, Jennifer Castracane and her husband Claudio, and her grandchildren, Ian and Mary Castracane. She is also survived by her sister Mabs, and her much loved nieces, nephews and many grand nieces and nephews.
Family and friends are cordially invited to gather and share memories with Ellen's Family on Tuesday, April 20 from 4-7 pm in the Doherty – Barile Family Funeral Home, 11 Linden St. READING. Parking attendants and elevator are available. A private Funeral Mass will be held on Wednesday, April 21st; all are welcome to join the family at Wildwood Cemetery in Winchester for Ellen's committal ceremony on Wednesday, April 21st at approximately 11:30 am.
In lieu of flowers, donations can be made to either Church of the Good Shepherd, 90 Chute St., Reading, MA 01867. Donations will be earmarked for the Youth Outdoor Spaces project or The Lewy Body Society (https://www.lewybody.org), which was instrumental in helping Ellen's family understand and navigate her experience with Lewy Body during her last year.