Reading, MA — In a March 30 blog post to the Reading Public School Community, Superintendent of Schools Dr. John Doherty announced that three finalists have been chosen for the position of Reading Memorial High School.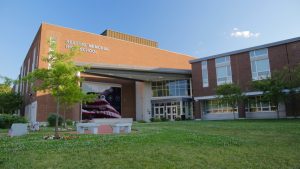 The candidates include Stephen Sierpina, current principal of Windham High School in Windham, New Hampshire, Kevin Tracey, current principal of John Glenn Middle School in Bedford, Massachusetts, and Sara Yuen, current High School Principal at Phoenix Charter Academy in Boston.
Sierpina has been the principal of Windham High School since 2017. Previous to this, he served as the Supervising Principal of Marsh Grammar School in Methuen for four years. He earned a B.A. in History from St. Anselm College and a Masters in Education from Fitchburg State College with a concentration in Secondary Education.
Tracey has served as the Principal of John Glenn Middle School since 2012, working previously as a teacher at North Andover High School. Tracey earned a B.A. in History from Providence College, a Masters in Education from Boston College, and a C.A.E.S in Educational Leadership from Boston College.
Yuen has been the principal of the Phoenix Charter Academy since 2015, working previously as the Phoenix Charter Districts Managing Director. She earned a B.A. in International Studies from Boston University and continued her career in education by earning Masters in Education in Education Policy and Management from Harvard Graduate School of Education.
Doherty stated that residents will be able to meet the candidate in a virtual community session on April 5 at 6:00 pm via Zoom.
"Links will go out later this week for the community session," stated Doherty.
Doherty encouraged interested residents to learn more about the candidates via their past work experience in the meantime, which he attached to the blog post.
The three candidates are applying to replace current RMHS Principal Kathleen Boynton, who has held the position since July of 2018. Boynton recently accepted the position of principal at Nashoba Regional High School in Bolton, Massachusetts.