Reading, MA –Town Engineer Ryan Percival and Michael Warner from Weston and Sampson provided an update to the Community Planning and Development Commission (CPDC) on the Auburn Street water tower project on March 22. The project will replace the current tower with a new glass-fused steel tank on a pedestal in the existing tower's exact location. The cell antennas on the present tower will be removed and then transferred to the new tower once completed. The CPDC has pursued lead contamination issues on the site and the fence's location surrounding the tank as they have reviewed the site plan. There is also the possibility for the space adjacent to the site to be developed into a small park for the neighborhood.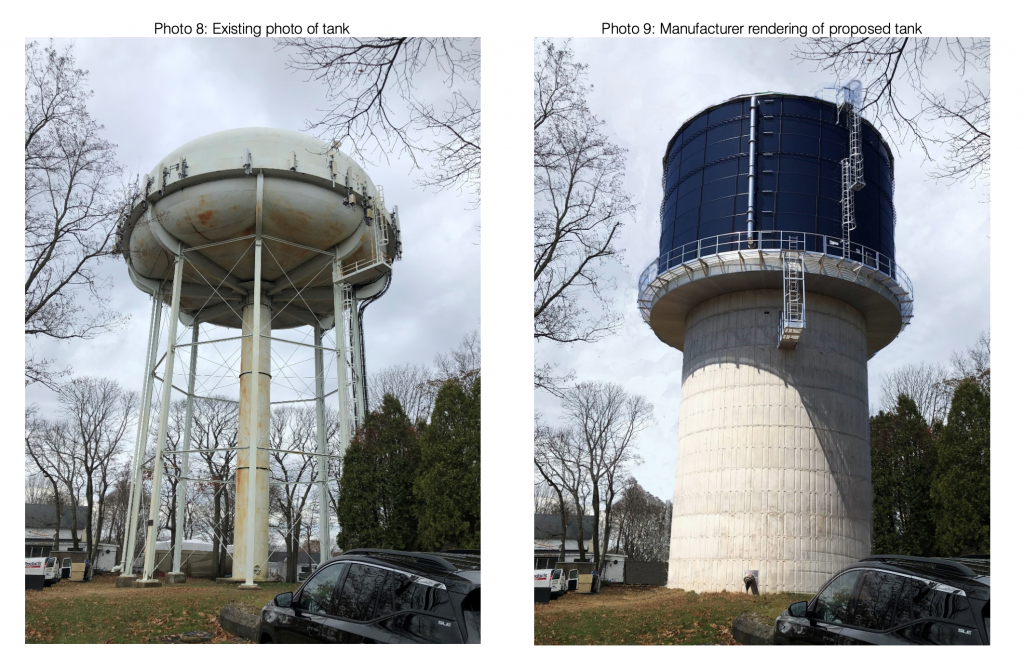 Percival reported that the area that needs lead mitigation has grown to encompass the entire site, though he did share that more testing will be required. He stated that the eventual location of the fence on the eastern end of the site would only be determined after the additional testing is completed. However, he believes ultimately there will be more open space than is currently available. The tower's driveway entrance will be moved west to align with the garage on the new tank, clearing more open space opportunities.
Percival also pointed out that Tree Warden Micheal Hannaford has determined that numerous trees on the site are considered unhealthy or hazardous. "I am shocked at how [few trees] are healthy in the area," Percival remarked. Hannaford will look to replace trees on the entire site in a planned effort once the project is complete.
"It will be a healthier site tree-wise," Percival stated.
Warner described to the CPDC how the truss work would be bolted to the horizontal seams on the tank, designed to withstand the load of the cell antennas. He also suggested that the RFP for the carriers could be worded in such a way as to mandate that the coloring of the antennas be made to match the tank. Percival has investigated whether or not the new tank could be supported by a similar structure to the current tank, "It's just not done; the benefit [to the town] will be a very low-maintenance tank," Percival concluded.
CPDC chair John Weston suggested that the hearing be continued to allow the town to solidify the new fence's placement after testing and investigate "form liners" for the pedestal. CPDC voted 5-0 to continue the hearing to April 12 at 8:30 pm.
CPDC also voted 5-0 to endorse the "approval not required" plan for a slice of the property at 144 Salem Street to be transferred to a neighboring property. CPDC also reviewed plans for a zoning workshop coming on Monday, March 29, at 7:30 pm.
CPDC adjourned at 10:40pm.