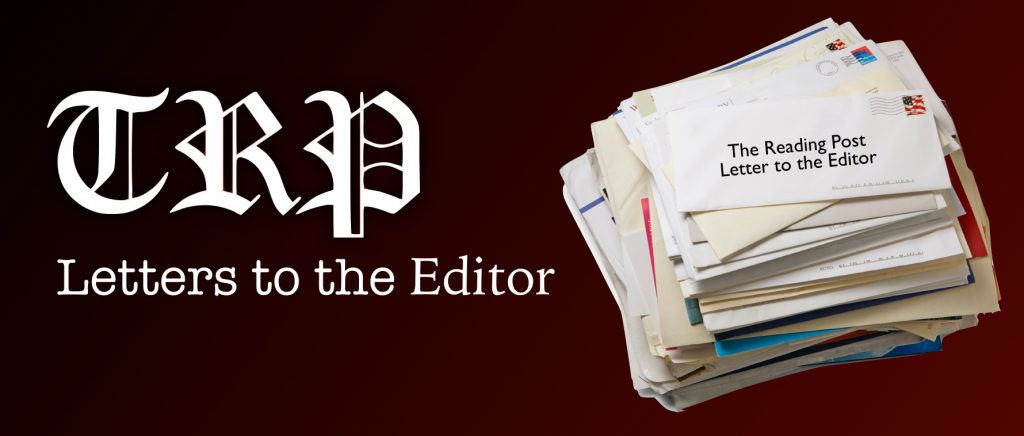 The Reading Post accepts Letters to the Editor. All letters must be signed. The Reading Post reserves the right to edit or not publish any letters received. Letters do not represent the views or opinions of the Post. editor@thereadingpost.com
---
The most common question asked a candidate for Select Board is what you feel is the most pressing issue facing the town. If I were a candidate other than the pandemic would be the Select Board itself.
Consider some of the action taken by the Board over the last three years or so that by Charter are not their purview!
By State law and the Towns Charter, the 40b on the corner of Lincoln and Prescott St.'s came under the jurisdiction of the Zoning Board of Appeal, and yet the Select Board had to get involved WHY?
Next came the Police chief appointment fiasco that by Charter the Select Board may only approve or disapprove the Town Managers' appointment. And yet the chair at the time wanted public input and dragged the appointment on and on WHY?
Next, the Board appointed an -ad-hoc committee as is their right under the charter but appointed two non-residents in clear violation of the charter WHY?
Over the last several weeks the Select Board has been in executive session in litigation over the proposed alcohol recovery house at the former Daniels nursing home. State and federal laws allow such homes, and the Town can not stop them, WHY then is the Select Board wasting your bill tax dollars on this when the Town cannot win?
Next is the replacement water tower on Auburn, it was determined that the tank must be replaced. This requires both the town's emergency equipment and the cell phone be taken of the tank during the replacement of a new tank. Based on the recommendation of the security firm hired by the town not to put the cell phone equipment on the new tank the town engineer proposed a separate tower be built to handle them. The neighbors did not like this idea and voted to have the cell phone companies fend for themselves. The lost income from the rental will be approximately$ 300,00 per year given it may be two or more years to construct a new. The neighbors do like the color of the new tank, it was explained that a different color could cost $100,000 and delay construction, this additional cost will reflect on your water bill.
In 1986 the voters voted to adopt the present charter that gives the Town Manager the power to manage the day-to-day operation and the Select Board to set policy. In my opinion in the last four years or so the Select Board have chosen to run the day-to-day operation WHY?
On April 6 your vote for a new member would help send a message that the Select Board should set policy and let the Town Manager run the day-to-day operation.
William C. Brown 
28 Martin Roadd 
781 944 2807