LIVE STREAMED CONCERT ON SATURDAY, APRIL 10, 2021 at 7:30 pm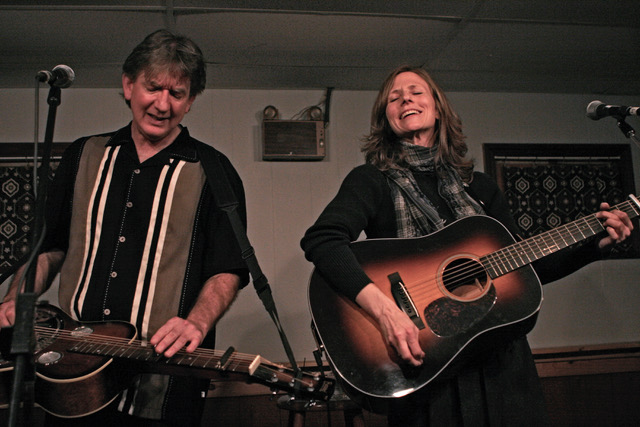 When: Sat. April 10, 2021, at 7:30 pm
What: A live Streamed concert with popular singer-songwriters Tracy Grammer and Jim Henry. With Tracy's distinctive voice and Jim's instrument skill on many instruments, the duo will provide an evening of memorable music. 
Where: Streaming on Youtube and Facebook pages. Links will be posted on their web pages and LindenTreeCoffeehouse.org
Cost: No set fee but donations requested through pay pal or a check to Linden Tree Coffeehouse, 8 Dexter Lane, Wakefield, MA 01880 Thanks to support in part from Mass Cultural Council, Wakefield Chapter. 
Information: 781-246-2836
The Linden Tree Coffeehouse (Wakefield), with The IVY CHORD (Reading) is excited to continue its 36 season of monthly acoustic folk music even during the Pandemic. On Saturday, April 10, we are able to bring to our folk community another evening of memorable music. The live concert with long-time Linden Tree Coffeehouse favorites: TRACY GRAMMER and JIM HENRY via the internet at 7:30 pm.  
Links for the show, streaming on YouTUBE, will be posted on Linden Tree web page and Facebook.
Jim Henry first appeared at the Linden Tree Coffeehouse in the early 90s and immediately became an audience favorite, returning often to our stage and on the Wakefield Bandstand one summer performing original songs that evoke small town life. It's hard to know where to start when describing Jim Henry. He does a lot of things and he does them well. Guitarist, singer, songwriter, multi-instrumentalist, sideman, headliner, podcast host, author, producer, engineer… it's safe to say Jim Henry does it all.
As a sideman, on a variety of electric or acoustic guitars, or on mandolin or dobro, Jim can render emotional sensitivity in one moment then tear into a rock or country solo with such fire it's hard to catch your breath. He is a master of adding whatever is needed at any musical moment.
At center stage, whether as a solo artist or leading a band, Jim delivers his finely crafted original songs with a smooth, rich baritone voice and engaging storytelling and humor. At home on a festival stage and the intimate setting of a house concert, live and in the studio, playing acoustic or electric, solo or with a band supporting another musicians, the sheer versatility of this skillful musician can be hard to fully appreciate…until you hear him play. His book, "50 Pro Tips for Musicians" and his pod-casts, the similarly named "Pro Tips for Musicians," feature a topic close to his heart — music. 
Called "a musician and singer of dazzling versatility" (No Depression), Tracy Grammer is among contemporary folk music's most beloved artists. Renowned for her pure voice, deft guitar and violin work, and incantatory storytelling, Grammer has recorded and performed with Joan Baez and Mary Chapin Carpenter, headlined several of the nation's top folk festivals, including Philadelphia Folk Festival and Falcon Ridge, and enjoyed 12 consecutive years as one of folk radio's 50 top-played artists, both solo and with the late Dave Carter who died suddenly in 2002..
Once she met Jim Henry at a gig, Tracy began touring with him. Her eleventh recording "Low Tide," was her first album of original songs. This recording showcases Tracy's tender and stubborn heart and her way with words and images. The disc was produced by Jim Henry, who also accompanied Grammer on her album, "Flowers of Avalon," which featured nine previously unreleased Dave Carter songs. The pair collaborated on an EP, "The Verdant Mile," and Grammer played on Henry's CD, "One Horse Town." Joan Baez calls Tracy, "a brilliant artist and unique individual. Her voice is distinctive, as is her mastery over the instruments she plays." – 
"I've been playing with Tracy since 2003," said Henry. "We met outside the Iron Horse in Northampton, right before the first show we ever did. We clicked right away and have been playing ever since. "For Tracy and I, it's a natural pairing when it comes to production. She's all about vision, and I'm all about deadlines. So it works pretty well," said the musician. Since Covid canceled gigs, the duo has been entertaining audiences with monthly afternoon Tracy Grammer and Jim Henry "Six Feet Apart" youtube shows. Each month they've played their original songs as well as those of others around a variety of themes. The audience members are from across the country and internationally have been so much fun, Linden Tree coordinators wanted to bring them to the nighttime viewers.
Although there is no set fee for the show, streaming concerts have been the means for the performer to pay their bills since they have not been able to tour. Suggested donations to their Pay Pal tip jars are what you can afford, recommended $10 to $20. Those who prefer to send a check, can mail to Linden Tree Coffeehouse, Eight Dexter Lane, Wakefield, MA 01880. 
 Thanks to the Mass Cultural Council, Wakefield Chapter and the Ivy Chord Coffeehouse in Reading for additional concert support. For more information: LindenTreeCoffeehouse.org, 781 246-2836