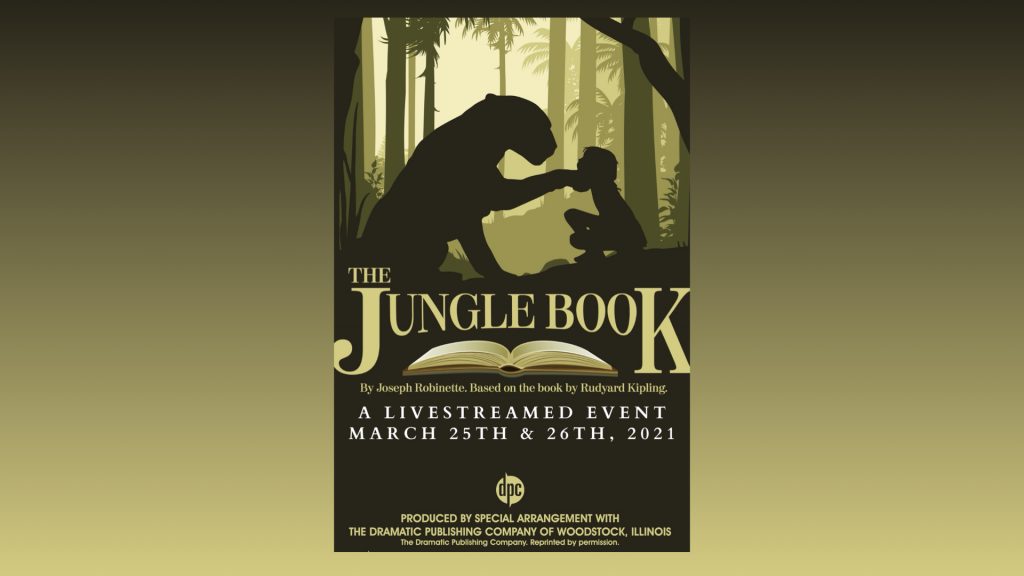 Reading, MA — Parker Middle School is proud to present their live stream production of The Jungle Book! The Drama Club cast, led by Director Stephen MacDonald, will bring the story of one of literature's most enduring classics to the stage and into your homes on Thursday, March 25, and Friday, March 26.
Interspersed with the classic adventure of Mowgli, the boy raised by caring wolves, befriended by Bagheera, the Panther, and Baloo, the Bear, and threatened by Shere Kahn, the evil tiger is the equally intriguing story of a young Rudyard Kipling, who is sent from his home in Bombay to a British boarding school where he encounters his own "jungle," including people—both good and otherwise—who parallel many of the animal characters he created. Filled with excitement and humor, the play highlights the struggle of good versus evil, the worth of friendship, and the importance of loyalty and other values required for surviving the "law of the jungle."
The cast and crew of the Jungle Book are particularly excited for this production, after having to cancel last spring's production of the Little Mermaid on opening night because of the pandemic. Lots of thought, creativity, and attention to safety protocols were put into the planning for this spring's production. Director Stephen MacDonald commented, "I am so thankful the Reading Public Schools accepted the proposal for this live-streamed production. Our students needed this creative outlet just as much as I did after a year of arts events being postponed, moved online, or canceled completely."
The students will be performing live at Parker Middle School with appropriate social distancing measures in place including wearing masks and staying 6 feet apart on stage. In addition, there will be no live audience members present. The performances will be broadcast via live stream allowing the audience to enjoy the play from the comfort and safety of their own homes.
Performances of The Jungle Book will be performed on Thursday, March 25th at 6:30 pm and Friday, March 26th at 7:30 pm. Tickets are $10 per viewer and can be purchased here. 
It is important to note that the streaming code will only work on 1 device, so please order tickets with the appropriate number of people and devices in mind.