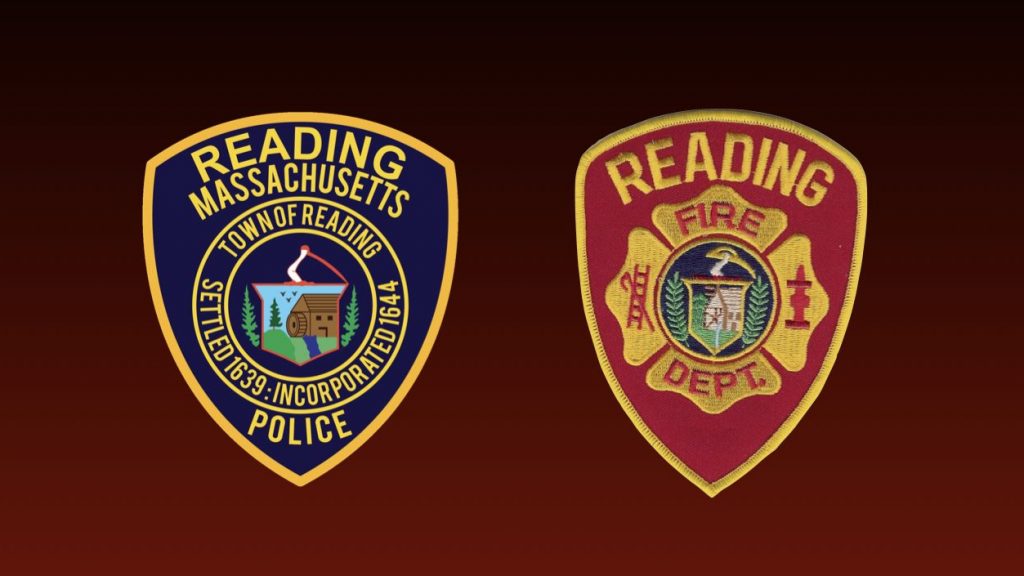 Reading, MA — Excerpts from the Reading Police and Fire Log:
Thursday, March 4, 2021
12:37am – Commercial Alarm at Main Street Business.
8:24am – Wallet Found on Main Street Sidewalk and Turned in.
10:23am – Report of Check Altering and Attempted Cashing.
10:58am – Out-of-State Driver's License Found on Pleasant Street and Turned in.
12:16pm – Audible Alarm at Frank Tanner Drive Residence.
12:52pm – Assistance Rendered to Timberneck Drive Resident.
1:40pm – Green Light not Working at Main Street and Summer Avenue.
1:53pm – No Trespass Order for Main Street Business Received and Filed.
3:07pm – Assistance Rendered to Timberneck Drive Resident.
3:35pm – Green Street Resident Reports Poster Torn from Garage Door.
3:52pm – Officer Assists with Birthday Parade on Red Gate Lane.
4:39pm – Report of Youths Throwing Items off Top Floor of Lincoln Street Building onto Passing Cars.
5:39pm – Audible Fire Alarm at George Street Residence.
5:53pm – Taylor Street Resident Reports Ongoing Issue with Neighbor.
6:35pm – Report of Two Persons Arguing at Gould Street Apartment.
8:17pm – Orange Street Resident Reports Missing Person.
Friday, March 5, 2021
3:57am – Alarm at Birch Meadow Elementary School.
7:55am – Green Street Resident Reports Damage to "Support the Police" Sign.
8:33am – Governors Drive Resident Reports Lost Bracelet.
10:37am – Hanscom Avenue Resident Reports Lost Wedding Ring.
11:28am – Oak Street Resident Reports Suspicious Activity Around Home.
1:27pm – Sanborn Street Resident Complaint Regarding Dispute with Contractor.
5:09pm – Report of Suspicious Person hitchhiking on West Street.
5:14pm – Investigation of Vehicle Crash on Lowell Street.
5:27pm – Abandoned Suitcase Reported at Sanborn Street Business.
6:54pm – Hit and Run Reported at Lowell Street Business.
7:18pm – Complaint Regarding Erratic Vehicle Operation on High Street.
7:32pm – Disabled Vehicle on Hopkins Street.
8:24pm – Report of Suspicious Vehicle on Belmont Street.
9:15pm – Officer Came Upon Illegally Parked Vehicle on Main Street.
11:26pm – Report of Hit and Run at Main Street Business.
11:37pm – Verbal Warning for Marked Lanes Violation on Haven Street.
Saturday, March 6, 2021
3:17am – Missing Dog Reported on Libby Avenue.
5:28am – Minot Street Resident Reports Unknown Odor in Home.
5:54am – Verbal Warning for Speed on Main Street.
10:35am – Van Norden Road Resident Reports Tree that Appears to be Falling Over.
11:02am – Investigation of Vehicle Crash at Main Street Business.
1:20pm – Baldwin Lane Resident Reports Fraudulent Unemployment Claim.
2:55pm – CO Detector Activation on Carnation Circle.
3:13pm – Lights not Cycling Properly at Main Street and Birch Meadow Drive.
4:53pm – Alarm at RMHS Field House.
7:40pm – Report of Possible Unwanted Guest at Highland Street Residence.
11:34pm – Willow Street Resident Reports Disturbance in Uber Ride.
ARREST: One Suspect Arrested for Violation of Protective Order
ARREST: One Suspect Arrested for Assault and Battery
Sunday, March 7, 2021
12:21am – Report of Suspicious Vehicle in Walkers Brook Drive Parking Lot.
2:32am – Temple Street Resident Reports Suspicious Person Knocking at Door.
8:11am – Report of Pile of Wood in Linden Street.
10:15am – Middlesex Avenue Resident Reports Stolen and Altered Check.
10:56am – Smoke from Cooking in Salem Street Residence.
3:15pm – Report of Dog off Leash at Parker Middle School.
3:17pm – Erratic Vehicle Operation Reported in Salem Street Rotary.
5:29pm – Lift Assist for Salem Street Resident.