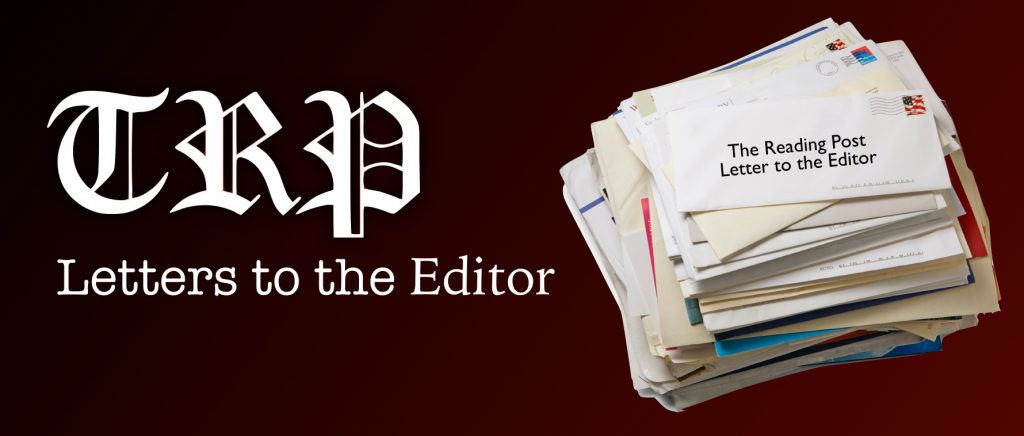 The Reading Post accepts Letters to the Editor. All letters must be signed. The Reading Post reserves the right to edit or not publish any letters received. Letters do not represent the views or opinions of the Post. editor@thereadingpost.com
---
Dear Reading Residents,
I am writing in today as an RMHS and Reading public school graduate on behalf of Geoffrey Coram, who is running for School Committee. Geoffrey is reliable, knowledgeable, driven, and deeply invested in the strengthening of our schools and extracurriculars. I have no doubt that Mr. Coram is the best fit for this position and for this town.
I believe Mr. Coram is an excellent candidate for School Committee because I have seen how committed he is to the betterment of the community around him. While I was in high school, I was heavily involved in the RMHS Drama Program, where I got to know Mr. Coram, who often volunteered up to six hours of his Saturdays (and many of his Tuesday evenings) to help build sets for Drama performances. In fact, Mr. Coram has had a hand in constructing every RMHS set since Mary Poppins in the fall of 2015 until the Coronavirus shut down this past spring, totaling over 14 sets over 14 seasons. Mr. Coram also served as Set Build Coordinator for two years, contributing to the safety of Reading students and parent volunteers. During my senior year of high school, there was a turnover in theater staff, and whenever there was a set build it was rare not to see Mr. Coram, toolbox already in hand, with a cordial hello and an unspoken focus on the task ahead: whether it was painting a platform or constructing a 14-foot wall.
Not only did Mr. Coram volunteer frequently at set builds, he was always ready to lend a helping hand either supervising backstage or at seasonal drama parties. Not all parents would be excited to spend their Friday night listening to 75-100 pre-17 year olds scream-sing lyrics to popular musicals, but Mr. Coram was graciously willing to, not because he was obligated to, but because it was something he could do to help. In one case, after a miscommunication between party coordinators, a party was one chaperone short. After a quick phone call, Mr. Coram, who had just driven away from the very same party after dropping one of his daughters off, turned around, came back and volunteered to chaperone.
I would love to say that Mr. Coram just loved the RMHS Drama Department (which I'm certain he did and does), but the truth is that Mr. Coram is a person with an eye for what needs improvement. If he sees something that could be better or more efficient, he follows through and makes it better or more efficient. He is exactly the sort of person we want representing our students and their well-being. Please join me in voting for Geoffrey Coram for School Committee on April 6.
Phoebe Singer
RMHS Graduate Class of 2019