Reading, MA — Town Manager Bob LeLacheur is pleased to announce that Christine Amendola will become the Reading Police Department's next Deputy Chief.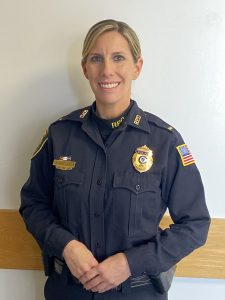 Deputy Chief Amendola will become the highest-ranking woman in the department's history when she assumes her new role on March 1, though she's served in a number of leadership capacities with the department long before now — most recently as a lieutenant.
"Christine earned this promotion, based on her distinguished service in the military, her outstanding contributions as a member of the department, and her strong performance in the selection process where she was a unanimous choice," said Town Manager LeLacheur.
"I am absolutely thrilled to have Christine as Deputy Chief. She is a proven leader and distinguished member of our department who will only continue to grow and contribute in her new role," Chief Clark said. "This promotion is well-earned, and I have no doubt she will remain a tremendous asset to the department and the Town of Reading."
Amendola joined the department in 2006 as a patrol officer and has earned additional responsibilities throughout her time in Reading, serving as a field training officer for new recruits, as well as the department's training manager and accreditation manager.
Most recently, Deputy Chief Amendola has overseen the department's community service and traffic and safety officers, as well as directed the administration of firearms licensing, animal control, and parking enforcement operations while co-supervising the Crisis Intervention Team.
She's additionally a certified DNA evidence collector, sexual assault investigator, and Rape Aggression Defense (RAD) instructor, and is also certified in drug identification and field testing.
Before joining the Reading Police Department, Deputy Chief Amendola served in the U.S. Army Reserves and Military Police with progressive responsibility as a gunner, sergeant, staff sergeant and detachment first sergeant. She's completed tours of duty in Bosnia, Iraq and Afghanistan and earned a Bronze Star, Army Commendation Medal and Army Achievement Medals, among other honors.