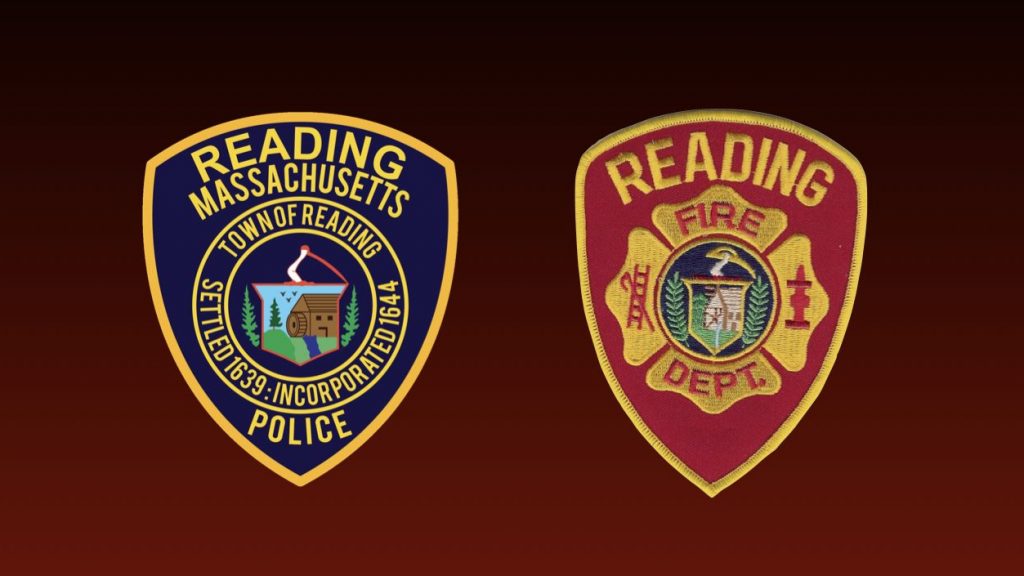 Reading, MA — Excerpts from the Reading Police and Fire Log:
Monday, January 18, 2021
1:53am – Loud Music Reported in the Area of Archstone Circle.
9:26am – Direct Call to Station for Smoke from Railroad Tracks.
10:15am – Robin Road Resident Reports Ongoing Issue with Dog off Leash.
10:51am – Whittier Road Resident Reports Fraudulent Unemployment Claim.
11:46am – Report that Equipment Containers at Castine Field were Vandalized over the Weekend.
11:48am – Charles Street Resident Complaint Regarding Ongoing Issue with Noise from Neighbor.
1:08pm – Text-a-Tip Report of Construction on a Holiday on Main Street.  Resident Requests Shut Down.
2:41pm – Vehicle Struck a Deer on Main Street.
4:16pm – Report of Parent Yelling at Children for Past Few Hours on Lakeview Avenue.
4:36pm – Incident Follow-up with Curtis Street Resident.
5:06pm – Report of Disabled Vehicle on Lowell Street.
9:45pm – Unit off with Disabled Vehicle on Main Street.
Tuesday, January 19, 2021
2:45am – Ash Street Resident Complaint Regarding Neighbors being Loud for Over an Hour.
6:51am – Low Hanging Wire Reported on Symonds Way.
6:57am – DPW Notified of Speed Limit Sign Leaning on Varney Circle.
7:49am – Commercial Alarm at Haven Street Business.
9:59am – Officer Attempts to Serve Summons to Washington Street Resident.
10:01am – Officer Flagged Down Regarding Road Rage Incident on Hopkins Street.
10:44am – Verbal Warning for Red Light Violation on Main Street.
10:47am – Abigail Way Resident Reports Harassment by Neighbor Via Zoom Meeting.
11:18am – Assistance Rendered to Small Child Locked in the RMHS Tennis Courts.
12:45pm – Complaint Regarding Box Truck Blocking Entrance to Sanborn Street Building.
1:08pm – Assistance Rendered to Salem Street Resident.
1:19pm – Emerald Street Resident Seeks Follow-up.
Wednesday, January 20, 2021
9:20am – Manager of Main Street Property Calling Regarding Homeless Person.
10:22am – House Lockout on Virginia Road.
11:20am – Officer Assists with Funeral Procession.
12:47pm – Private Investigator in Area of Haverhill Street and Timothy Place.
12:49pm – Residence Check on Gazebo Circle.
1:16pm – Edgemont Avenue Resident Expresses Concern Regarding Hitchhiker.
2:38pm – Suspicious Person Reported in ATM Vestibule on Main Street.
2:43pm – Officer Covering Crossing Post on Arthur B. Lord Drive.
3:06pm – Complaint Regarding Unhitched Landscape Trailer Blocking Traffic on Ash Street.
3:22pm – Franklin Street Resident Reports Receiving Threatening Emails.
3:44pm – Report of Vehicle Stuck in the Mud on Hunt Memorial Field.
4:48pm – Investigation of Tractor Trailer Crash into a Pole on Salem Street.
5:09pm – Timberneck Drive Resident Reports Four or Five Loud Bangs Heard in the Area.
6:02pm – Commercial Alarm at Harnden Street Business.
6:22pm – General Way Business Reports Shoplifting Incident.
6:50pm – Resident Reports Past Unreported Crash on High Street.