Light a Candle for Remembrance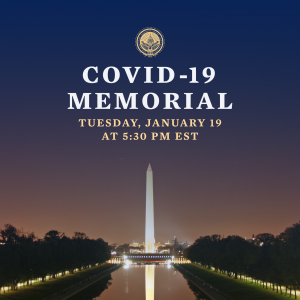 Reading, MA — Tonight, there is a National Memorial Observance to remember and honor the lives lost to COVID-19. On January 19 at 5:30 pm, we invite residents to join Americans nationwide to come together for a moment of remembrance.
At 5:30 pm ET residents can tune in to various media for a ceremony with President-elect Joe Biden and Vice-President-elect Kamala Harris, featuring the first-ever lighting of the Lincoln Memorial Reflecting Pool to honor those who have died due to COVID-19. Residents are encouraged to light a candle in their window in remembrance. The first case of COVID-19 in the United States was confirmed on January 20, 2020.