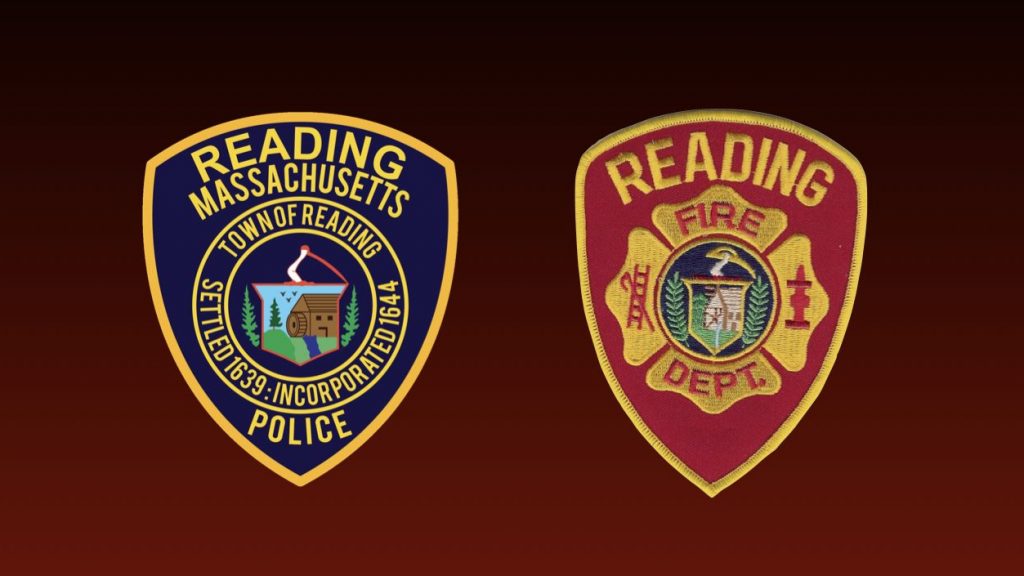 Reading, MA — Excerpts from the Reading Police and Fire Log:
Thursday, January 14, 2021
7:14am – Report of a Dog off its Leash at Parker Middle School.
8:06am – Complaint Regarding Vehicle Parked in Front of Chapel Hill Drive Residence.
8:08am – Traffic Lights not Cycling Properly at West Street and Summer Avenue.
8:12am – Northbound Traffic Light is Twisted at Main Street and Salem Street.
9:00am – Officers Monitoring Parking in Square.
11:10am – Private Investigator in Area of Middlesex Avenue.
12:01pm – Report of Large Pothole on Ash Street.
1:25pm – Officer Assists Student at Birch Meadow Elementary School.
2:12pm – Forest Street Resident Reports Fraudulent Unemployment Claim.
3:56pm – Report of Person Sleeping in Vehicle at Main Street Business.
4:00pm – Report of Abigail Way Resident Having Issues with Neighbors.
8:24pm – Resident Reports Debris in Road on Main Street.
Friday, January 15, 2021
5:25am – Report of Several Christmas Trees in Middle of Lowell Street.
9:04am – Follow-up Visit with Abigail Way Resident.
9:18am – Investigator Operating on Middlesex Avenue.
11:43am – Minor Vehicle Crash in Walkers Brook Drive Parking Lot.
1:06pm – Beaver Road Resident Reports Fraudulent PayPal Account Opened.
4:11pm – CO Alarm Activation at Main Street Residence.
5:40pm – Two-Vehicle Crash on Short Street.
7:01pm – West Street Resident Reports Harassing Phone Calls.
10:15pm – Suspicious Vehicle Parked in Wrong Direction on Main Street.
10:20pm – Suspicious Persons Standing on Street Corner on Lewis Street.
Saturday, January 16, 2021
12:06am – Commercial Alarm at Main Street Business.
8:42am – Direct Call for Water Problem on Forest Glen Road.
9:08am – Commercial Alarm at Ash Street Business.
10:09am – Road Flooding on Willow Street.
10:28am – Report of Tree Leaning on Electrical Pole and Wires on Pearl Street.
11:05am – Large Branch on Wires on Bunker Avenue.
11:09am – Reverend Reports Threats Made to Churches.
11:25am – Low Hanging Wire Reported on County Road.
2:01pm – Vehicle Struck Rock Wall at Mattera Cabin.
6:53pm – Ash Street Resident Reports Outside Odor of Gas.
6:57pm – Thorndike Street Resident Reports Outside Odor of Gas.
Sunday, January 17, 2021
12:57am – Complaint Regarding Erratic Vehicle Operation on Haverhill Street.
6:17am – Smoke Alarm Sounding at Summer Avenue Residence.
8:10am – Lift Assist for Archstone Circle Resident.
10:13am – Frank Tanner Drive Resident Reports Bank Account was Accessed.
11:10am – Report of Large Chunk of Cement Lifted up Around Manhole on Walkers Brook Drive.
11:22am – CO Detector Activation at Hillside Road Residence.
12:05pm – Possible Water Main Break in Walkers Brook Drive Area.
1:18pm – Officer Assists with Birthday Parade on Salem Street.
5:35pm – Commercial Alarm at Linden Street Business.
7:16pm – Gazebo Circle Resident Reports Water Tower Appears to be Leaking.
8:06pm – Report of Large Group of Youths Behind Building at Joshua Eaton Elementary School.
8:21pm – Franklin Street Resident Reports Damage to Decorative Stone Wall.
8:27pm – Milepost Road Resident Reports Broken Glass on the Street.
10:05pm – Loose Dog Reported on Berkeley Street.